I hadn't expected to find a Spaghetti Western that still doesn't have its own thread on the forum, but, as the saying goes, the late cat catches the early bird.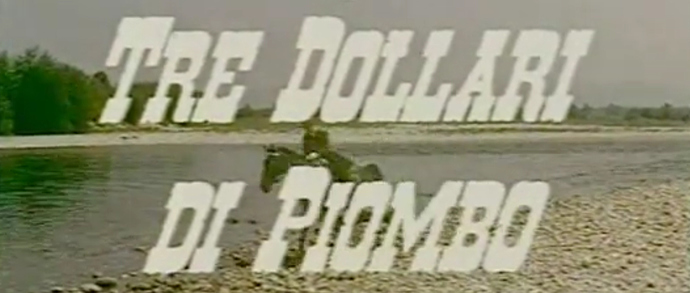 Guiseppe "Pino" Mercanti's Tre dollari di piombo, an Italo-Spanish-French co-production, passed the Italian censorship on November 28, 1964, and was theatrically released three weeks later, on December 19, three months after Leone's Per un pugno di dollari. Mercanti, who was born in Palermo in 1911 and died in Rome in 1986, directed about 20 feature films during his career, which lasted until 1970. Besides Tre dollari di piombo, I've seen only three of his movies: I cinque dell'Adamello (1954), Il cavaliere dai cento volti (1960), and Il vendicatore mascherato (1963).
More on those three films

I cinque dell'Adamello ("the five of the Adamello"), the most interesting of the three, is set near the Adamello-Presanella Alps at the border between the northern Italian regions of Lombardy and Trentino-Alto Adige (South Tyrol) at the beginning of the so-called White War (1915–1918, mountain warfare between Italy and Austria-Hungary during WWI). It tells the stories of five Alpini (Italian mountain soldiers) who are buried by an avalanche during a dangerous war mission. Years later, their remains are discovered in the glacier ice, and their "heroism" gets a posthumous appreciation. During the first sixty minutes of his film, Mercanti tries to create a social panorama in the style of neorealismo but ultimately doesn't get beyond a sort of sentimental and kitschy Heimatfilm, patriotic and bigoted.

Il cavaliere dai cento volti ("the knight of a hundred faces"), co-written by Sergio Sollima and Piero Pierotti, is a naive medieval swashbuckler film starring Lex Barker in the title role and Livio Lorenzon as his antagonist. It presents itself as a light-hearted affair, closer to comedy than adventure. The direction seems to be on autopilot most of the time, all the actors doing what they usually do, especially Barker in his customary sleek, slightly ironic, perfectly poised screen persona and Liana Orfei as a spunky spitfire. What I liked best were the colorful, fancy costumes. The Italian version, by the way, is considerably longer than the German version, which for inexplicable reasons was entitled Die Rache des roten Ritters ("the revenge of the red knight") and in which, for equally inexplicable reasons, many scenes were shortened or even omitted, among them a for medieval times amazing bikini scene involving a fair amount of ladies-in-waiting.

The third one, Il vendicatore mascherato ("the masked avenger"), is a costume drama set in Venice during a kind of theatrical fantasy Renaissance. It stars Guy Madison as Comandante Massimo Tiepolo, a character based on fourteenth-century insurgent Bajamonte Tiepolo, who led a revolt with the aim of establishing a hereditary monarchy in Venice. When Comandante Tiepolo returns to the Serenissima from a war against the Ottoman Empire, he finds that his love, Elena, played by Lisa Gastoni, has married the ruthless, cynical, calculating doge (Gastone Moschin), against whom a conspiracy has formed. At first still reluctant, Massimo takes on a leading role within the conspirators' group. To protect his true identity, he wears an eye mask in the style of Will Eisner's Spirit, hence the movie's title. However, after Massimo loses his scapular in a fencing duel, Elena betrays him to the doge's henchmen, but later she helps him to escape from the dungeon (go figure). Alas, it's all very complicated, convoluted, dialogue-heavy, and insipidly tedious.
I couldn't find anything about Pino Mercanti in my film books at all; only the appendix of Kevin Grant's Any Gun Can Play lists Tre dollari di piombo, as well as the purportedly Mercanti-directed Western Le maledette pistole di Dallas. However, the latter picture is also frequently credited to Spanish director José María Zabalza. Sharing largely the same cast and crew, both films were shot either at the same time or in immediate succession, passed Italian censorship in November 1964 and premiered in Italy the following month. My guess is that both directors worked on both films, maybe even simultaneously at different locations (some of the exterior shots must have been taken in Slovenia or Croatia, inland from Trieste, maybe around Ljubljana).
For those who read Spanish and Italian

José María Zabalza is the subject of a monograph entitled Cine, bohemia y supervivencia ("cinema, bohemia and survival," Adimedia, 2011), written by Gurutz Albiso. Nino Genovese and his son Mauro published a biography of Pino Mercanti in 2019, Un regista siciliano tra realtà e utopia ("a Sicilian director between reality and utopia," Viagrande/Catania: Algra Editore).
Tre dollari di piombo uses one of the most generic Western plots: A shrewd businessman subjects a small town and its surrounding ranches and farms to his tyrannical control, aided by a band of rotten gallows-birds. An expert gunfighter opposes them, with little or no support from the ranchers and townspeople. Added is a revenge motif, as the gunslinger's father was murdered by the evil businessman.
Unfortunately, Tre dollari di piombo is the exact opposite of a yet to be discovered, exciting gem from the early days of the western all'italiana. Everything feels second-hand, uninspired, devoid of original ideas. The cast can hardly make up for this impression, certainly not American actor Fred Beir in the male lead role, nor Athens-born Evi Marandi as his sweetheart. Of some interest are perhaps the early performances of later Spaghetti-Western regulars such as Ángel Álvarez, Roberto Messina and Francisco Nieto. Had the Italian Western remained at this level of second-rate imitation of American predecessors, this forum would certainly not exist.