Hello everyone in SW Land,
I'm nearing my 3rd Anniversary of joining this fine community!!! At first I wasn't sure I would be active on here a whole lot, but after having gotten to exchange many post chats and getting to know so many fine fellas here, I'm enjoying and want to continue to be a part of this very welcoming and friendly club. With having gone through a very huge and somewhat scary change in moving from the home and city I grew up in to a new one in a different State, and of course the COVID Pandemic (or The Sickness as two of my little cousins call it), it became so nice to come on here and forget about those things for a little while.
As a way of saying thank you to everybody for making being here so cool and wonderful I want to do a little contest. Mike Hauss is currently in the process of putting together a new compilation book and I have two items in it, one is a review of the German Blu Ray of Massacre Time, and a review of a film. I'm going to leave a single still of the film below and you all can have multiple chances to guess which title it is I reviewed.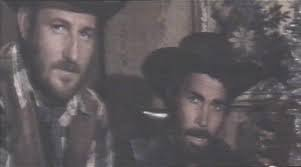 Who ever guesses the right title gets to pick one of the films I'll watch and discuss in the next Spaghetti Western Digest, and I'll even put in "This title was suggested by etc. Now the winner can either pick one of five titles:
Gentleman Jo…Uccidi (Gentleman Killer)
Per il Gusto di Uccidere (Taste of Killing)
Una Bara per lo Sceriffo (A Coffin for the Sheriff)
Una Colt in Pugno al Diavolo (Colt in the Hand of the Devil) - the 67 version
I Vigliacchi non Pregano (Taste of Vengeance/Cowards Don't Pray)
Or you can surprise me with with a choice of your own. Good luck to everybody!