Hello!
I'm currently doing a school project focused on exploitation movie posters and I'm looking for names of some of the artists that made these great spag western posters. If anyone on the forum could help me out, it would be great.
Cheers,
The Swede
Thanks Cat!


I will look at their work and prob use them in my presentation.
I had added that Companeros poster(one of my faves too) but didnt know who did it. Very cool!
Cheers!
If anyone has any other artists names, please let me know. I'm trying to get as many as I can. Thanks!
P Franco! I've been trying to figure out who did that Sartana poster.
Frank McCarthy's poster for You Only Live Twice is one of my favorites of all time.
Thanks Nick! will check this out
Hello! I'm hoping some of you may be able to help. I'm looking for anyone who has original posters for the following movies starring Richard Wyler:
WINCHESTER BILL//IF ONE IS BORN A SWINE (aka VOLTATI… TI UCCIDO)
RATTLER KID (aka UN HOMBRE VINO A MATAR)
Does anyone here have any copies?
I always manage to mess something up when I upload pictures… Anyways. Was not gonna buy more posters but Tom offered me these 8 for a friendly price so I couldn't resist.
As I was cleaning out a storage unit, I found 24, rare, original, Spaghetti Western posters that I'm willing to part with. If anyone's interested, PM me for list. Will also consider selling as a lot. Just as a sample, this HUGE French Grande poster (47x63), "Django Prepare for Execution".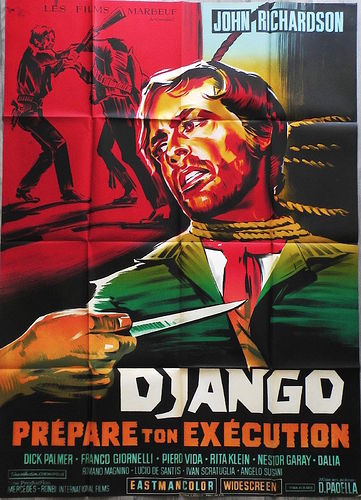 I'm interested in a print
I love Spaghetti Western artwork. It is colourful, vibrant, eye catching and dramatic. It has an identity all of it's own and some of the images have become part of pop culture adorning t shirts and other merchandise.
As an art student studying illustration when it came to write my dissertation the first thing I said was "I want to do it on spaghetti Westerns." My tutor's reply? A flat "No".
He said that it was cheap pulp rubbish and if I wanted to work around the western genre to look at the classic artwork of Hawks' and Ford.
This escalated into a full scale argument. And actually risked my place at university. It irritated me that he and all the other tutors looked down their noses at the genre and stopped any attempts I made to do projects based on it.
What University Did You Attend?