Carmelo Reale is the bald henchman, called Chuck in the English dub.
From The Big Racket (1976):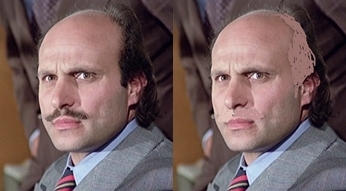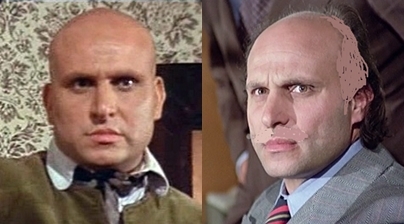 I haven't watched this film in over ten years and I can understand why. Quite a boring film unfortunately. I love the first movie though.
I found Dante Cona (see Reply #99) shaven in 1972 TV mini series Sorelle Materassi: from memory the gunsmith seems to me the only possibility, what do you think considering that height and build seem to be the same?

Maybe it's the hair but I just can't see it. He looks so much younger.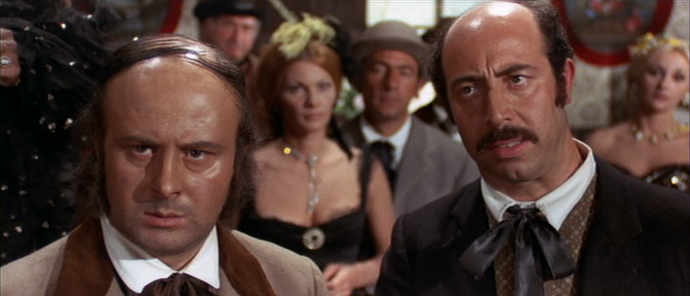 But I think the guy to his right is the postal inspector in The Stranger Returns.
In my opinion it's not the same actor who plays the inspector.
I found Chiappa in a minor role, so the only possibilities among credited actors are Filippo Antonelli and Arnaldo Mangolini: considering that there's a painter with the same name born in 1958 and since Arnaldo was credited in the Art Department in a 1976 comedy he could be the young cow herder who saves the Stranger.twice, but for the moment there isn't a confirmation.
I have finally completed my Sabata chronicles.
And I was kind of pleasently suprised with Return, given its reputation. Opening act is quite faboulous and spiritful, and so is the soundtrack: I love the campy main song and the fuzzy guitar that pierces the whole soundtrack (making it clear that this is 1971, not middle of the 60s when twang was the thing). I also like that they downplayed the sillines a little bit, compared to Adios Sabata. Some of the gadgets are actually more cool than ridicoulous. So, I would rate Return of Sabata close to Sabata and a lot higher than Adios Sabata.
I would agree! I dont care for Adios but Return has a special place in my heart!
I'm leaning towards Cona being the gunsmith. I also have found him a few times (I think these are all him) but always with a beard and that hair looks like wigs to me. He is credited in Galileo but I couldn't recognize him. What source is the above pic from? What are your thoughts?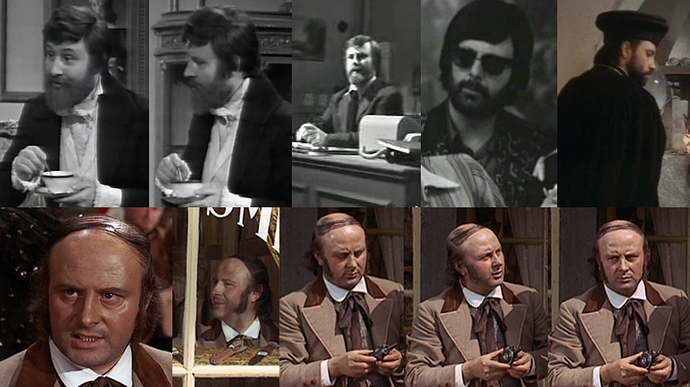 'Lo scandalo della banca romana' (aired in February 1977). Episode 2, from 12:30 to 13:45.
It's hard to be sure, but I think it's him.
Yes, it is hard to be sure and these pic from La dottoressa del distretto militare (1976) don't help me


Haha, big hair and long thick beard as usual.
The YouTube version is about ten minutes shorter than the original.
Anyway, is it Cona at 1:09:39 and from 1:06:45 to 1:08:15?
If so (as I think) no wig this time. Or maybe, at a closer look, a small toppiece slightly different in color.