The German disc shows a Studio canal logo
Amigos, I'm a very happy man this morning, I just purchased this long OOP item, brand new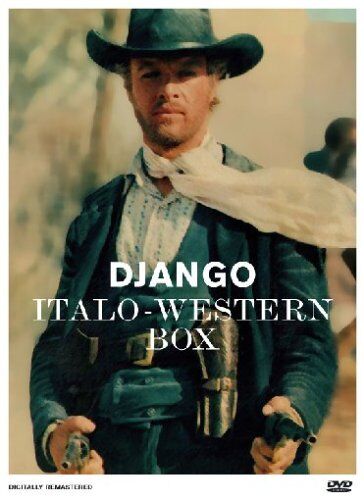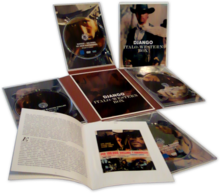 As I mentioned in the Talk Whatever thread, I found a seller on Amazon Germany who had a new copy and a used copy. The new copy was 99.90 Euros and I believe the used copy 50 Euros. I E-Mailed the seller and asked him if he wouldn't mind accepting a lower offer for the item as the already listed price seemed a little high. He replied and asked me what I would like to pay and I asked if he could take 84.99 Euros for the item, he responded this morning that he was fine with that and so I went to purchase the item, and to my delighted surprise he had the item listed at 80.00 Euros exactly. So after shipping and tax, I paid 102 USD which was well worth the price for a long OOP item. I highly recommend the seller. I'll still be getting the Blu Rays of the Garko and Camaso double bill when Mr. Bruckner strikes a deal for them, but the DVDs are a very welcome addition to my collection.
Now that you've bought it, the collectors curse will strike and the blu-rays will be announced soon

Jokes aside, that's a sweet deal you got on it.
That would be the ultimate irony wouldn't it?

Wasn't cheap but I can't say I blame you at all.
It's happened to me several times before sadly. Can't remember what films though.
Edit: Fulci's The Psychic was one. Spent a fortune on the old dvd and shameless brought out the Blu not long after. Bought the Blu as well of course

I was really glad the seller was OK with letting me buy the item for a lower price, it was a win-win: he got some profit and I found something I really wanted.
That would be irony worth it
I received Garringo today! Looking forward to see this movie! The blu ray isn't numbered, so maybe it's not that limited as they say.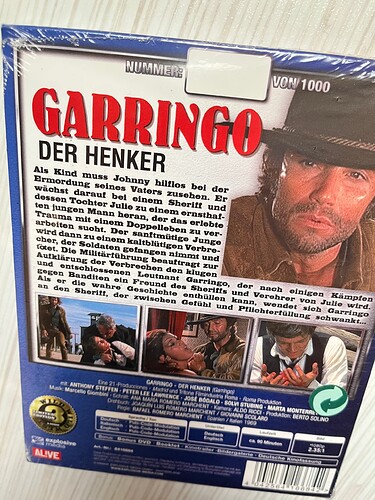 Yes, I know I'm a little late to the party on this one.

There was just so much coming out at the time that I hadn't seen so, since I had both Django and Texas Adios on DVD, I held off hoping I could get a deal on the "LE" set down the road.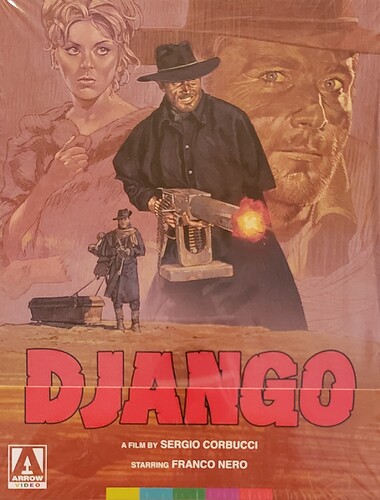 It was still in plastic and the guy said he'd never got around to watching it before upgrading to 4k (The second deal I've gotten lately with people upgrading). So, I got this and my wife found a mixture of six Rom-Coms and old Disney movies that she wanted with a price tag of $23 for the entire lot.
So paid less than 23 dollars for the Django box?
Yeah, the way I figure it is that he was charging somewhere between 50 cents and $1.00 each for the other six movies which means that I got it for either $17 or $20. At least that is how I have it worked out in my head.

The guy also had several Kurosawa Criterion releases for sale, but I already had those unfortunately. I'm sure I could've got a good deal.
You and I tie for the deal of the week mi amico, but you have the best price tag overall

That is quite the deal.
Absolutely! You landed a great find.
Just got Spaghetti Western Bible volume 3, to get hold of a halfway decent print of Blindman (haven't seen it since a terrible bootleg print in the early 90's) and Apocalypse Joe
Also the Dutch blu-ray of My Name is Nobody
I've got that one too, and I've been thinking the same thing 'what would I do if a new release of them came out?'. Obviously a blu-ray double feature would be a must have, but this set is so nice it would be a shame to replace it. Good find!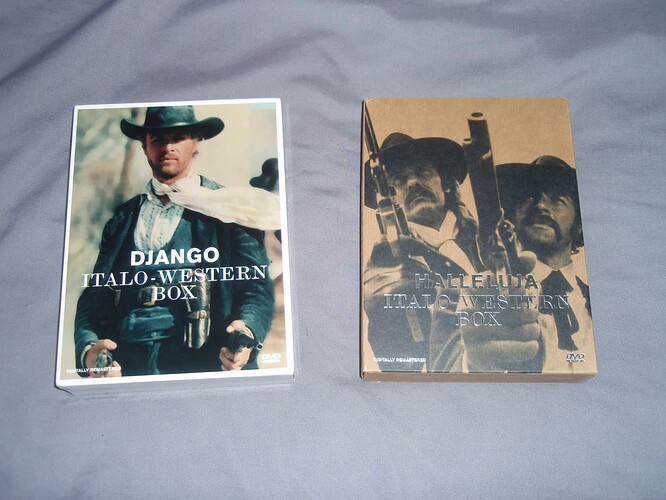 Got the other box too. Same thing goes for that one.
Just purchased another OOP Koch SW DVD, brand new and sealed, this time on eBay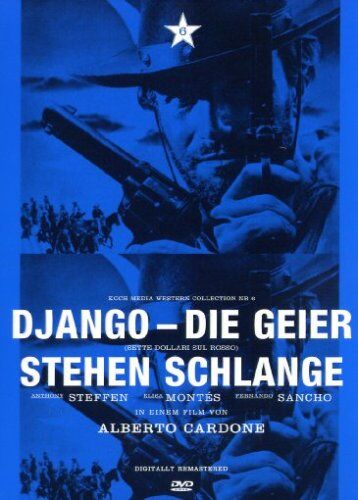 The seller was very friendly and easy to talk with. At first when I went to buy the DVD, eBay said the seller didn't sell to the US, even though the item page said they did, so I E-Mailed the seller and asked. He cleared up the issue straight away and and I was able to order with no hassle.
I've seen two of Cardone's Westerns, and this one is my favorite of his thus far and has just the right mix of entertaining action and character depth. Mille Dollari sul Nero ($1,000 on the Black) is an overall good film, but I felt Cardone focused way too much on the screwed up relationships within the Liston family.
The mailman just dropped off the Django Italo Western Box today, and it was exactly as the seller described. The outer box had a few little dings, but that's to be expected having gone through the open market for nearly 20 years, (man I'm getting old

) no complaints at all as everything else was in solid condition. Very, Very happy.