Our new forum has user (1) trust levels and a (2) award badges. Please take a minute to read what it means, you'll love it.
(1) Trust Levels
Upon gaining more experience in our community, you will rise through five trust levels.
Trust levels are there to prevent newcomers and others from accidents during the first forays into our community.
Trust levels provide experienced users with more powers to help others and help us maintain and moderate this forum.
All new users start at 0. The first promotion usually happens within 15 minutes. Reading posts, liking, replying, linking, reading the terms of service, reading an entire discussion - the more you do, the higher the forum will rank you. This ensures that you are familiar with the forum before more functionality will be activated for you. Starting with trust level 3 a private lounge area will also be open to you.
We currently stick with default labels for these levels, which are:
0 (New) → 1 (Basic) → 2 (Member) → 3 (Regular) → 4 (Leader)

(example)
Description of the individual trust levels and criteria for earning them
0: New user, can't do much yet, and advanced functionality is hidden to avoid initial confusion.
1: Basic user, is now trusted with most forum functionality. Requires entering 5 topics, reading 30 posts, spend at least 10min reading.
2: Member, have additional restrictions lifted, but need to have been on board for at least a week, have used most functionality and explored a lot of the forum to be granted this privilege.
3: Regular user, have become part of the daily sight. Must show high levels of activity over a long period of time and must have a clean record (no posts flagged as spam, etc.). You can lose and re-gain level 3, but there's a buffer period. Regular users can edit entire topics and moderate aggressively.
4: Leader, these are model users that are an integral part of the community. They get this level awarded manually or by having a spotless record of activity over a year or more. This trust level puts you pretty much on par with global moderators.
(adapted from a longer post at Discourse meta)
(2) Badges
You can earn badges for activities, signaling your experience within this forum. A very simple one is the "Autobiographer" badge which you will earn once you have tweaked your personal profile, e.g. with a nice avatar.
Badges foster positive user behavior through "learning by doing"
They are granted by the admin or awarded automatically by the system
Some badges can be used as title, be granted multiple times, can be publicly listed
Examples for badges: first like received, first internal link created
Some badges are awarded upon gaining a new trust level to notify you of the promotion
Click here to see all currently available badges.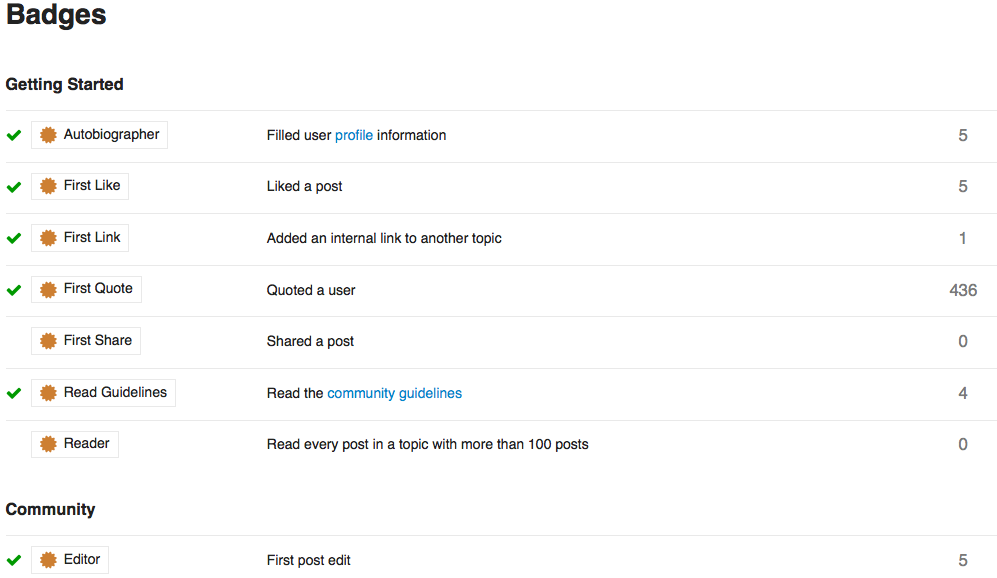 This topic is currently under construction. Feel free to ask questions below and we'll continuously update this guide.