As
my last blog post
generated quite a lively discussion, I decided to do another little list. Our community isn't exactly in agreement over what exactly constitute a "twilight spaghetti western", but the term is most often used to describe spaghetti westerns that came out in the twilight years of the genre, more specifically in the late 70s as the genre was on its way out. Some of the films remembered in this context offer a distinct style that sets them apart from the films that dominated the heyday of the genre. Some anachronisms, especially in the music, a sombre and melancholy style, eerie atmosphere, strong violence, groteske topics, gloomy outlooks - the twilight spaghetti westerns were for the most part not joyful things. Here are eight of the more prominent representatives of that subgenre, and we're looking forward to your thoughts in the comments.
Here's an article on the topic that you can read later:
https://www.spaghetti-western.net/index.php/Twilight_Spaghetti_Westerns
And here's an ongoing discussion that you can join as well:
Now let's get started.
Enzo Castellari's 1976 cult movie
Keoma
has an excellent reputation among fans all things considered. It has a memorable, albeit very melancholy, score, it has
Franco Nero
in the leading role, and it's an all around solid western adventure. It is in many ways, the prototypical twilight spaghetti western. It was even quite successful: in some countries,
Jonathan of the Bears
(a 1993 adventure film starring Franco Nero) got retitled
Keoma 2
. The movie is available on a great BluRay by Arrow Video.
Click here to learn about available BluRay releases of this movie.
Sergio Martino's
Mannaja
came out in 1977 and in some ways tried to emulate Keoma's success. It is even more stylish and mythical, but even flamboyant and even off-putting in some respects. The fan community is split between fans of this late entry and those who consider it a campy late-stage attempt at churning out something meaningful.
Maurizio Merli
made better police movies, the genre that made him a star. Unfortunately there is yet no decent HD version of this movie.
Click here to learn about available DVD releases of this movie.
Michele Lupo's
California
is an interesting case because it's kind of an unevenly calanced film. For budgetary reasons or otherwise, parts of the movie take place in muddy contexts, decrepid buildings and feature a late-70s aesthetic, whearas others seem generic and dusty, but it is among the later titles, the worldview of the script is very pessimistic and the context gloomy. A rather good spaghetti western that is available on BluRay.
Click here to learn about available BluRay releases of this movie.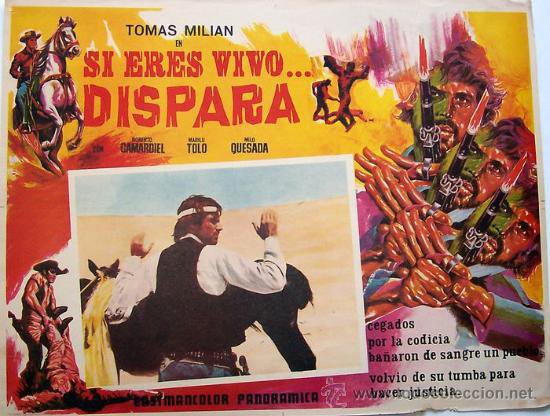 Giulio Questi's Django kill, if you live… shoot is rather notorious. It is bizarre, sadistic, homoerotic, experimental and at times confusing. Now this one is from '67 so it's not exactly twilight material yet per se, but in stylistic terms this one is already outside the usual 60s spaghetti western parameters, it's a few years ahead of its time so to speak. This almost surreal classic also features a rather memorable performance by the great Tomas Milian. It's available on BluRay.
Click here to learn about available BluRay releases of this movie.
Lucio Fulci only made a small hand full of spaghetti westerns.
Four of the Apocalypse
is an interesting one. From 1975, it is truly a twilight spaghetti. It looks raggedy and slightly anachronistic, there are some odd style, wardrobe and makeup choices, and it's violent and gloomy. With a stellar cast (Milian, Testi, Pollard, etc) this sometimes counts among fan favorites, but is definitely and acquired taste. While it is available on BluRay, unfortuantely so far only in Germany (with English audio)
Click here to learn about available BluRay releases of this movie.
Three years later Fulci made another one, and it's even further outside the old era.
Silver Saddle
is sometimes called one of the last spaghetti westerns. As
@scherpschutter
has remarked, it "seems two films for the price of one: an adult western with graphic violence (the film director Fulci wanted to do) and a family movie with a rather mellow atmosphere (the film Gemma preferred to make).". It has some decent moments but for the aforementioned reason is a rather uneven experience.
Click here to learn about available BluRay releases of this movie.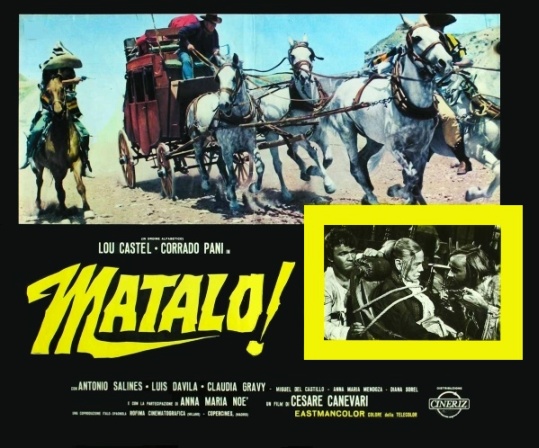 Cesare Canevari's Matalo! is another sort of notorious one. Some hate this 1970 entry, considering its mostly plotless, overstylized experimental appearance, brutality, weird soundtrack and uneven performances. But it has some fans preceisely because it is so off beat and doesn't care much about what people may think of it. Definitely a strange and odd entry, but not quite one that shows directors had run out of ideas by then, quite the opposite one might say. But maybe producers already didn't care much, this is the movie that wouldn've been made even two years earlier.
Click here to learn about available DVD releases of this movie.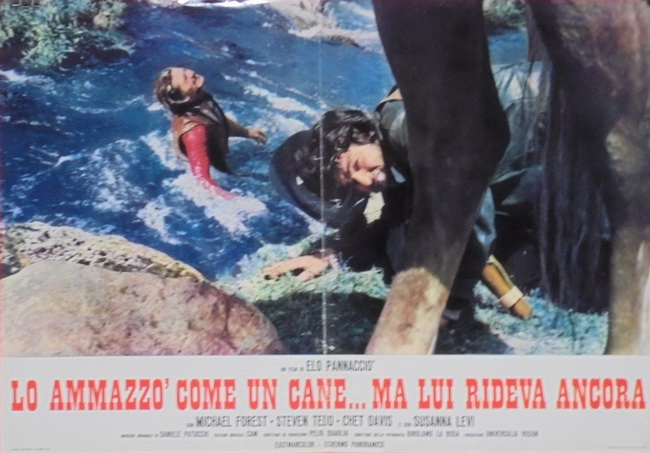 This is a lesser known one. The director is lesser known, the actors, it's quite an obscure 1972 movie, were it not for the fact that ostensibly parts of it were later re-edited into a pornographic film. Death Played the Flute however is more than it's reputation. It's brutal, likely censored, slightly anachronistic and a rather hit and miss exploration of the genre by the director who then went elsewhere. It is not available on DVD or BluRay.

In 1969, the genre's demise was still denied by most, with international success still trickling in or even starting to bear fruit. So a brutal Django-esque western starring Anthony Steffen was definitely nothing out of the ordinary. Django the Bastard however is not ordinary. It may seem a too typical spaghetti western by its premise to be counted as a twilight representative, but where it already shed off the genre's main tropes is in its over-mystification of the character, the gloomy atmosphere and the sparse if at all use of epic style. It's a mix of western and horror and bears a lot of similarity to Eastwood's High Plains Drifter.
Click here to learn about available BluRay releases of this movie.