Un nouveau livre sur Corbucci : Éditions LettMotif, blog de l'auteur.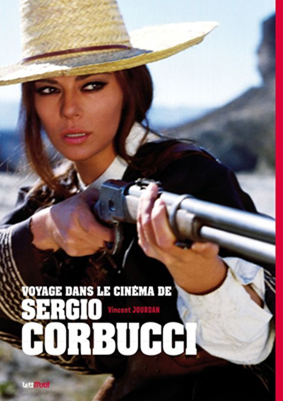 This looks great. Thanks for posting. Definitely one to pick up. It's about time for someone unassociated with him to have written a book-length critical appreciation (the only other ones we have are his autobiography edited by Caldiron, and what Corbucci's wife has written)
The lack of literature on Corbucci is as regrettable as astonishing, given the range, scope and quantity of his four-decades-spanning oeuvre. He directed more than sixty feature films in a broad variety of genres, including thirteen Westerns. Books on him in German: 0, in English: 0, in Italian: an "autobiography" and his wife's "memoirs."
There are two by his wife Nori:
"Il regista del mio cuoro"
"Ciak motore azione. A lato, dietro e dentro al cinema"
I've only seen the latter along with the Caldiron book (containing his autobiography). I'm very curious about the first one and would love to get my hands on a copy.
Do you have it, or do you know something about the content? Do you know the author?
Not that astonishing considering that his fame in the english-speaking parts of the world is rather limited. And even in Europe he is just one of too many. The film historians have not much interest in him, while Leone's fame is still growing and growing.
Another problem is that he made too many totally bad films.
At least his 4 major westerns should have a much bigger film historical reputation than they actually have.
I'm sorry to say, neither do I know the author, nor do I have information on his book other than what he himself wrote about it (see above links):
« Je dois préciser que j'ai essayé d'équilibrer la partie informative avec la partie critique, comme dans les livres qui me plaisent en tant que lecteur cinéphile. Je ne pense pas qu'il y aura, pour les spécialistes du western en particulier, de réelle nouveauté en terme d'information, plutôt un essai de synthèse et la volonté de faire découvrir les différents aspects [du] travail [de Corbucci]. »
However, Vincent Jourdan states upfront that he doesn't think Western experts will find much new information in his book.
Good point.
Bava and Fulci are of course very cultish, so that's no surprise, but If Freda and Valerii get book-ed everyone should also …
Who knows? Maybe Roberto Curti is working on a book on Corbucci …
Perhaps…
By the way, Curti's first book on Valerii was in Italian. He then released an English language one. I only have the Italian one so I don't know what the differences are.
Curti's first book on Valerii covers mainly the Western films, his second Valerii's entire filmic output – to the bitter end in terms of Valerii's career trajectory, which reflects the decline of the Italian film industry. In Curti's words (from his preface to Tonino Valerii: The Films, p. 5), "The present edition is greatly expanded, with important additions that shift the book's focus from the original's heavy focus upon the Spaghetti Western more squarely upon the work of Valerii."