I know there's a lot of stuff on Roku, I'll try and get channel and film info tonight and tomorrow.
Roy Colt and Winchester Jack is on US Netflix, that's the only minor one I know of.
Ace High is on Netflix (UK) presently.
AMAZON PRIME INSTANT VIDEO. (USA only ???)
Long Live Your Death (letterbox full screen, poor quality)
Death Rides a Horse ( full screen, poor quality)
God's Gun ( does this count? )
Kid Vengeance ( same)
Captain apache (same)
There's a Noose Waiting for You … Trinity!
Savage Guns
It Can Be Done, Amigo
Trinity and Sartana
Ace High
Boot Hill
This Man Can't Die
Between God, the Devil, and a Winchester
If you Meet Sartana Pray for your Death
The Hellbender's
After reviewing a few of them quickly, they all seem to be of revolting picture quality.
Wow great updates. Can more folks check what they can dig up on Hulu, Netflix, Roku, etc?
On Roku:
Cowboy Classics
And God Said to Cain
Any Gun Can Play
Between God, the Devil, and a Winchester
Beyond the Law
Blindman
Boot Hill
Death Rides a Horse
Find a Place to Die
Four of the Apocalypse
God's Gun
The Grand Duel
Gunfight at Red Sands
I am Sartana - Trade your Guns for a Coffin
If You Meet Sartana Pray for Your Death
It Can Be Done Amigo
Johnny Yuma
Keoma
Run, Man, Run
Savage Guns
Sundance Cassidy and Butch the Kid
The Fighting Fists of Shanghai Joe
The Stranger's Gundown
This Man Can't Die
Trinity and Sartana are Coming
Twice a Judas
White Comanche
(Might have missed some Eurowesterns masquerading as American ones, but I think I got all the proper spags)
Saddle Up Westerns
It Can Be Done Amigo
Death Rides a Horse
The Grindhouse Channel
God's Gun
Dorado Films
Dynamite Jim
Four Dollars for Revenge
Gold of the Brave
Man Alone
Pistol Packin' Preacher
Ride and Kill
7 Devils on Horseback
The Federal Man
Three Musketeers of the West
A Train for Durango
Django Shoots First
A Town Called Hell
Those are all the channels I could find that had spaghetti's on them, back when I set my Roku up. Maybe newer channels popped up since them. As far as the quality goes, I expect the first three to be of substandard quality, with Dorado I would assume it's screener level quality. They have a nice selection of other stuff on there too, like their OOP Eurospy films, however you have to pay a buck to watch it without ads popping up every 15-20 min or so. I found that you can avoid the ones inside the film if you back out when they begin and then hit resume, but they're still a distracting pain in the ass.
Edit: Hulu has next to nothing when it comes to westerns in general, much less spags (not even a western section in the films). Only a handful of American ones is all I could find.
I came across a streaming platform on my Android TV today called Snag Films. It's like a sort of bargain-basement Netflix, but if you like a cult indie b-picture, an under-the-radar documentary, a forties creature feature or a spot of Blaxploitation, there's a harmless distraction or two to be found there. The Brain That Wouldn't Die, Dementia 13, Jive Turkey, Bela Lugosi Meets a Brooklyn Gorilla, Jesus Christ:Vampire Hunter, Reefer Madness etc. etc. You get the picture. And it's all free, obviously. Anyway, They've got Trinity and Sartana Are Coming (Siciliano, 1972) on there as well.
Amazon Prime has added a few titles, don't know if it's USA only or for how long, Amazon Prime seems to have quicker turnover than Netflix to me, but I could be imagining things.
Added titles:
Blood Money (HD)
Get Mean (HD)
Django Kill (HD)
The Good, The Bad, & the Ugly (HD)
Duck You Sucker (HD)
Django (HD)
A Bullet for the General (HD)
Keoma (HD)
Cut-Throats Nine (poor quality full frame)
Hulu added a few for Hulu Plus:
Dollars Trilogy
Texas, Adios
Django Kill
Beyond the Law
There's some more, that's just from memory
Do any of you use Kodi (formerly XBMC)? It's an open source media player, entertainment hub and software application. It can be downloaded to Windows, Android and iOS devices as well as some other smart TV and hardware devices (Amazon Fire TV, Raspberry Pi, etc.). It takes some figuring out at first but there is a wealth of channels to be had on there, streaming old movies, new movies, the latest TV shows, classic TV, streaming and archived sports events, premium TV channels, porn if you're into that, ahem, streaming music, podcasts, you name it.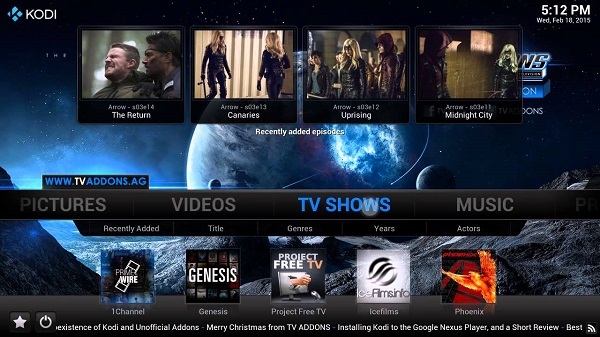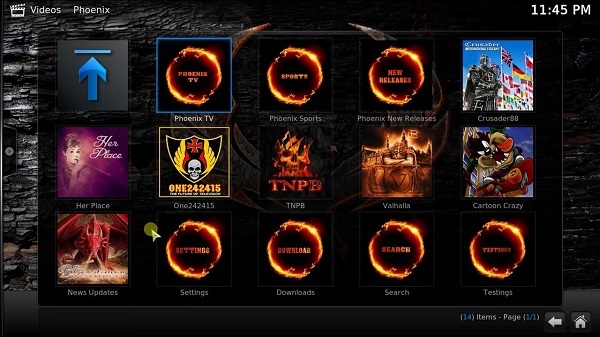 Anyway, long story short: One of the most popular and essential add-ons out there for Kodi is an add-on called Phoenix, which provides a number of channels. One of those channels is called "One242415" and it's bloody excellent. Hundreds of movies, music and TV shows, in categories such as "Martial Arts", "Zombies", "Quentin Tarantino", "Blaxploitation", "Retro TV", "Sci-Fi", "Animated Films For Grown-Ups", "Clint Eastwood", "Monsters", "IMDb Top 300", and so on. It's a treasure trove. They've also got a "Westerns" category (and a "Best Westerns" category. And a "Gunslingers" category) with a raft of western titles from Stagecoach to The Hateful Eight, and among those western titles are the following spags:
Once Upon a Time in the West
Red Sun
Villa Rides
Chato's Land
Chino (there's a "Charles Bronson" category, as you can perhaps tell)
A Fistful of Dollars
For a Few Dollars More
The Good, the Bad & the Ugly
They Call Me Trinity
Duck, You Sucker
My Name is Nobody
Django
As I say though, there are loads of westerns on there and that's just a part of what's on offer.
Most of these "channels" however are not very legal
The channels aren't, no. If they're not licensed to host and distribute the protected and copyrighted material they're broadcasting, they could find themselves in a bit of bother. However, we as end users are okay because watching streamed content is legal as long as that's all we're doing. If we're ripping the content and then copying it onto distributable discs or sharing it to Cinemageddon or other torrent site, then we're acting illegally too because that's copying and distribution. But just watching streamed content is the same as watching movies that have been uploaded to YouTube without permission. Eventually YouTube spot it or someone alerts them to it and the film is taken down, but the people who viewed it have done nothing wrong.
https://gigaom.com/2014/06/05/you-cant-break-copyright-by-looking-at-something-online-europes-top-court-rules/
Eh…
Let's not get there …
I've been meaning to update for a few weeks. Amazon Prime Instant Video has been loading up loads, and I mean LOADS, of euro-content and more with a large amount of Spaghetti Westerns and Eurowesterns and quite a lot of poliziotteschi, peplum, some gialli, Spencer & Hill non-westerns, 100s of Hong Kong, etc. I don't know if this is only in the USA or not.
I presume that these are all licensed, or at the very least, legal to watch as Amazon is vouching for them. For what it's worth, most of the titles have appropriate posters and correct info. Most of these spaghettis are of very good picture quality for streaming, most in true widescreen, not letterboxed 4:3, though I will note when there are differences.
Some of these are from Blue Underground and have been there for awhile. Some list a studio, such as BU, EPIX, or Wu Tang or All Channel Films (and seem legit as such), some have nebulous studio listings that only list the name of the director. Does that mean they are sketchy? I don't know, that's up to Amazon and the rights holders in USA for I all I can tell. Also, there's new titles being added seemingly every day, I think 8 titles have been added in the last week.
Some are even available to purchase for $2.99, and I bought them all those just in case they leave Prime streaming. Just a warning, videos on Prime can last a short time and be gone without notice, and sometimes brought back without notice, so watch them while you can.
The Spaghetti titles, the Amazon title listed first exactly as they have them, english unless otherwise noted, I'm listing the ratio as from my tv, some of these 16x9 listings could really be 1:85. Some titles appear twice in Amazon with different posters from different studios, I will note where relevant. The dates I use are from SWDB, some are different with Amazon or missing.
3 Bullets For Ringo - 3 colpi di Winchester per Ringo - 1966, 87m, 16x9
7 Dollars on Red - 7 dollari sul rosso - 1966, 94m, note: (All Channel Films classic poster 16x9, preferred for aspect ratio) / (plain text poster, credited to EPIX studio, under title "Seven Dollars on the Red" 95m, letterboxed in 4x3 frame)
7 PISTOLS FOR A MASSACRE - Sette pistole per un massacro - 1967, 80m, 16x9
10,000 For A Massacre - 10.000 dollari per un massacro - 1967, 93m, letterboxed 2:35? in a 4:3 frame
Apache Woman - Una donna chiamata Apache - 1976, 84m, 16x9
ARIZONA COLT - Arizona Colt - 1966, 116m, 16x9
Bandidos - Bandidos - 1967, 90m, 2:35
Ben And Charlie - Amico, stammi lontano almeno un palmo - 1972, 107m, 16x9
BEYOND HATRED - Al di là dell'odio - 1972, 77m, 16x9, english subs
Black Jack - Black Jack - 1968, 92m, 4x3
Blood Money - Là dove non batte il sole - 1974, 2:35?, 95m (yellow poster from studio EPIX, fuscia poster from All Channel Films) Both versions seem the same.
Bullet for the General - Quien Sabe - 1966, 114m, 2:35
Carambola - Carambola - 1974, 96m, 16x9
CEMETERY WITHOUT CROSSES - Une corde, un colt - 1969, 87m
EL CISCO - El Cisco - 1966, 92m, 16x9
Companeros - Vamos a matar, compañeros - 1970, 114m, 2:35
Dead Men Don't Count - ¿Quién grita venganza? - 1968, 86m, 1:85?
Django - Django - 1966, 91m, 1:66?
Django Kill… If You Live, Shoot! - Se sei vivo spara - 1967, 116m, 2:35
DJANGO, PREPARE A COFFIN - Preparati la bara! - 1968, 91m, 16x9
Durango Is Coming, Pay Or Die - Arriva Durango, paga o muori - 1971, 87m, 16x9
Forgotten Pistolero - Il pistolero dell'Ave Maria - 1969, 80m, 16x9 (version B.R.C. Produzione S.r.l. studio) (version All Channel Films studio 80m, poster featuring horse) These two versions seemingly link and play the same copy?
Four of the Apocalypse - I quattro dell'Apocalisse - 1975, 103m, 16x9
Four Pistols For Trinity - I quattro pistoleri di Santa Trinitá - 1971, 93m, 4x3
Get Mean - Get Mean - 1975, 90m, 16x9 (plain text poster, another version with proper poster is present but unavailable?)
Halleluja for Django - La più grande rapina del west - 1967, 103m, 16x9
Hands Up Dead Man - Su le mani, cadavere! Sei in arresto - 1971, 88M, 16X9, english subs
INVINCIBLE MASKED RIDER - L'invincibile cavaliere mascherato - 1963, 89m, 16x9, english subs
Keoma - Keoma - 1976, 100m, 2:35
Killer Kid - Killer Kid - 1967, 97m, 16x9
Lone and Angry Man - Una bara per lo sceriffo - 1965, 85m, 16x9?
Lucky Luke - Lucky Luke - 1991, 86M, 1:66 ???
A Man And A Colt - Un hombre y un colt - 1967, 82m, 16x9, english subs
Man, Pride and Vengeance - L'uomo, l'orgoglio, la vendetta - 1967, 100m, 2:35
Mannaja: A Man Called Blade - Mannaja - 1977, 96m, 2:35
Massacre Time - Le colt cantarono la morte e fu… tempo di massacro - 1966, 91m, 2:35
Matalo Kill! - Mátalo - 1970, 89m, 16x9
My Name Is Pecos - Due once di piombo - 1966, 81m, 16x9
Noose for Django - Una lunga fila di croci - 1969, 97m, 2:35
One Silver Dollar - Un dollaro bucato - 1965, 91m, 1:66 ??? (EPIX studio text poster) (All Channel Films studio, classic poster, 16x9, listed 90 minutes)
A Pistol for Ringo - Una Pistola per Ringo - 1965, 94m, 2:35?
PRICE OF POWER - Il prezzo del potere - 1969, 108m, 16x9
Return of Ringo - Il ritorno di Ringo - 1965, 96m, 16x9
Return of Shanghai Joe - Il ritorno di Shanghai Joe - 1974, 87m, 16x9
Ringo Face Of Revenge - Ringo, il volto della vendetta - 1966, 97m, 16x9
Shanghai Joe - Il mio nome è Shangai Joe - 1973, 94m, 16x9
Shoot Gringo Shoot - Spara, Gringo, spara - 1968, 91m, 16x9
Silver Saddle - Sella d'argento - 1978, 98m, 16x9
A Sky Full of Stars for a Roof - …e per tetto un cielo di stelle - 1968, 92m, 16x9
Son Of Django - Il figlio di Django - 1967, 87m, 16x9
Sugar Colt - Sugar Colt - 1966, 87m, 16x9
Sundance Cassidy - Vivi o, preferibilmente, morti - 1969, 97m, 4x3
A Taste Of Killing - Per il gusto di uccidere - 1966, 84m, 16x9
TASTE OF VIOLENCE - Le goût de la violence - 1961, 81m, 16x9, english subs
Texas, Adios - Texas, Addio - 1966, 92m, 2:35
They Call Him Zorro…Is He? - Ah sí? E io lo dico a Zzzorro! = 1975, 89m, 16x9
They Call Me Hallelujah - Testa t'ammazzo, croce… sei morto… Mi chiamano Alleluja - 1971, 91m, 16x9
Those Dirty Dogs - Campa carogna… la taglia cresce - 1973, 86m, 2:35?
TWICE A JUDAS - Due volte Giuda - 1968, 92m, 16x9, english subs
Two Crosses at Danger Pass - Due croci a Danger Pass - 1967, 86m, 16x9?, TECHNICALLY NOT ON PRIME, THIS MOVIE IS FREE WITH ADS,
Eurowesterns:
Among Vultures - Unter Geiern - 1964, 98m, 2:35?, english subs
BULLETS OVER DALLAS - Plomo sobre Dallas - 1970, 86m, 16x9?, english subs
Get A Girl Out West - Vente a ligar al Oeste - 1972, 85m, 16x9, english subs
Who Killed Johnny Ringo - Wer kennt Jonny R.? - 1966, 86m, 16x9, english subs
Mexican Westerns:
Capulina Speedy Gonzalez - 1970, 93m, 4x3
Dead Aim - Arde baby, arde - 1971, 87m, 4x3,
MISC
God Fogives… I Don't! [sic] - Dio perdona… Io no! - 1967, 102m - ONLY AVAILABLE AS PART OF "STARZ" add-on subscription to Prime for $8.99 a month, not for sale. Haven't watched their version as I don't have a sub
The Secret of Captain O'Hara - El secreto del Capitan O'Hara - 1964 eurowestern - UNAVAILABLE. Was briefly on Prime, I added it to my list, now it is unavailable for stream or purchase. Might have been up for maybe, 3 months?
Shango - Shango, la pistola infallibile - 1970, 82m, 16x9 THIS WAS ON PRIME AND FOR SALE, BUT NO LONGER ON PRIME? I paid the 2.99 for it and still have it to stream, but it looks like it might no longer be on prime streaming? As I wrote, these movies can go up and down on Prime in an instant.
Take A Hard Ride - Take A Hard Ride - 1975, also only available with the STARZ sub
Some, if not most of them, might be available without Prime but free with ads. Your mileage may vary.
Holy shit

You think you could list some poliziotteschi? I've been trying to keep track of em, specifically the free with prime ones