This topic is to discuss the Special Edition (or Gold Edition in Germany) of Sergio Leone's Fistful of Dynamite (aka Duck You sucker, aka Todesmelodie).
Database entry[/url]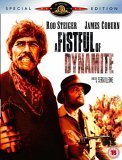 Buy at amazon.co.uk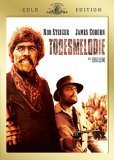 [url=http://www.amazon.de/exec/obidos/redirect?path=ASIN/B00095MR3Y&link_code=as2&camp=1638&tag=thequentintar-21&creative=6742]Buy at amazon.de (Bei Amazon.de kaufen)http://www.spaghetti-western.net/index.php/Gi%C3%B9_la_testa
FOR US RESIDENTS:
I know you poor people won't get this DVD before christmas, or maybe even only in 2006. But if you have a Region Free or Multiregion DVD player, just head over to www.ebay.com and trust me they are selling the UK edition like crazy there you can get it for 12 bucks or something it's crazy!
CENSORSHIP:
The UK Edition is slightly cut by 1 second or so, due to UK policy on animal cruelty (horse falls!)
VERSION:
This DVD features the restored and remastered version of the original Italian cut (at least as close to it as they possible could restore it) which is over 20 minutes longer than the initial version that was available prior to this one.
EXTRAS:
Audio commentary by Sir Chris Frayling
Documentary: The Myth of the Revolution
Documentary: Sergio Donati remembers Duck You Sucker
Documentary: The different versions
Documentary: Once upon a time in Italy
Documentary: Restoration, Italian style
Locations now and then
Radio spots
Foto gallery
Booklet (about 4 pages text max…)
Trailer
LANGUAGES (this counts for the GERMAN edition, UK info will follow):
English, German and Spanish in DD 5.1, Polish in 2.0 Mono
Subtitles: ESP, SW, FIN, NOR, DAN, Port, Gr, Slow, Kr, Engl, Germ.
RUNNING TIME (as on the cover of the German DVD): 150 min