Seeing as how this is the focus film for June I thought I should start a thread for discussion here.
I am not a huge fan of comedy westerns in general but, for me, the Trinity films are an example of how they can be done well. When I think of the spaghetti comedies I dislike it is usually because they are poor copies of these films and don't live up to the standard set by Barboni, Hill and Spencer.
That said, I must say I prefer the first Trinity film to this one but it's good fun none the less. The farting baby alone is worth the price of admission and Harry Carey Jr makes an unusual appearance which he carries off well I think.
Difficult to accept that this film outgrossed every other spaghetti by a country mile though. It's good, but it ain't that good.
---
For more info visit:
Database page: Continuavano a chiamarlo Trinità - The Spaghetti Western Database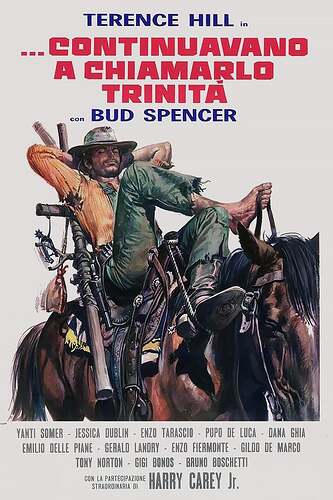 Give Trinity is Still My Name your rating out of 5 stars!