Il tempo di avvoltoi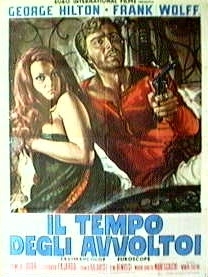 I enjoeyd a lot this movie, my vote is [7/10]. Frank Wolff does a bandit that has some illness, and made violent performes, just like putting a whore's face in a 'frijoles' plate, no mercy by his part.
Hilton does his usual, some funny parts when he tries to scape Fajardo's farm.
And finally there is a beautty (unfortunatelly I cannot remember her italian name) wife of Don Jaime (Farjardos).
I might say that S.W. lovers gonna like this, music is very enjoyable too!