http://www.spaghetti-western.net/index.php/Aventurero_de_Guaynas,_El[/url]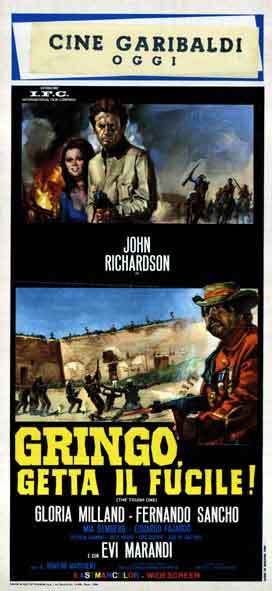 A Gringo (John Richardson) arrives with a train in a town called Guaynas. He has two suitcases with him: One with weapons, the other with speakers. He is searching a treasure and the gets help from the Revolutionary Lobo (Fernando Sancho)…
A pretty good film but no masterpiece. And it's no Western, more an adventure film with much western elements and revolutionaries. They were 'modern' cars, helicopters and modern machine guns.
The film has a very good cast with John Richarsson, Fernando Sancho, Eduardo Fajardo, Luis Induini, Victor Israel, Tito Garcia, Luis Barnoo… and the make a good job.
Sometimes the film is very funny, for example as Richardson rescues Sancho before the Execution with an Speaker. He says to the soldiers they should lay down their guns but the commander said they should aim ;D
I have not noticed too much of the story because my version is in Italian but the film is very entertaining and the finale shoot out is pretty good !
It's an nice adventure film, not more and not less.
I must say, I really like it.
6,5-7 / 10
I've seen an Italian TV Brodcast in around 1,56:1 wich runs 90 minutes. I don't know about another version. I've thought they isn't available in any form ! I'm glad to have this one.

[URL=http://www.directupload.net]
http://www.spaghetti-western.net/index.php/Aventurero_de_Guaynas,_El