The legendary acting duo Carlo Pedersoli and Mario Girotti is hard to look at separately. While the two have movies under their belts where they didn't appear as a team, the bulk of their successes were joint efforts. I am of course talking about Bud Spencer and Terence Hill, to use their more popular screen names. I have recently found myself taking stock of my own knowledge of their spaghetti westerns and in doing so re-watching some, assessing which movies are available and which ones I may be missing from my shelves. As I often do, my own homework ends up in notes and I might as well share them.

So whether you are a fan or knowledgeable expert, or someone looking for a refresher, or maybe you're even new to the films of the two, this may be a worthwhile read. Just as well, one of my guiding questions was: what is important to know from a completist standpoint and what info may be missing from the perspective of some who have only memories of certain titles, trilogies or re-dubbed versions? My biggest hope is that those among you not intimately familiar with their films will discover that there is more to them than the so-called Trinity movies.
So here is my look at the spaghetti westerns of Bud Spencer and Terence Hill. I will do this chronologically, with a small picture to signal the respective pair of fists involved. Let's giddy on up…
---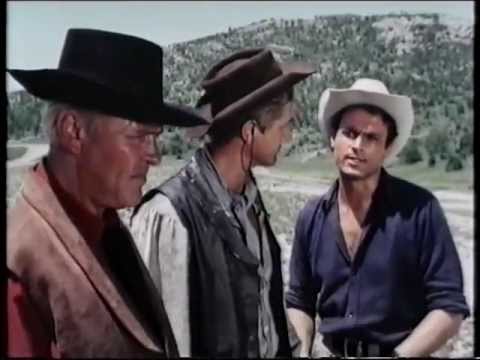 Duel at Sundown (Duell vor Sonnenuntergang, 1965)
Leopold Lahola made this classic looking, little known Krautwestern. It is not a starring vehicle for Terence Hill, but aside from the Karl May movies he appeared in (see last paragraph) it is one of the earlier Eurowesterns he could be seen in. Other noteworthy names are Peter van Eyck, Giacomo Rossi-Stewart and Walter Barnes.
Availability: No Blu and no international DVD either, as far as we know, just a German DVD.


---
This is the first of three just very loosely connected spaghetti westerns that Giuseppe Colizzi made with the two, and it is the one that put them on the map. Considering this fact, it is surprisingly little known among the wider public. It is a brutal, grim and sinister old school spaghetti western, maybe that's one reason for it. If you can, watch the restored uncut version of the film for full effect.
Availability: Not too great, but there are a few BluRays and a whole range of DVDs. The uncut version is about 113min or so, for your information.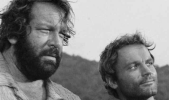 ---
Ferdinando Baldi made so many better spaghetti westerns, it's almost hard to believe what happened here. This is no Blindman, Forgotten Pistolero or Hate Thy Neighbor. But just maybe, this semi-musical genre bender is misunderstood? You be the judge. Terence doesn't shine in this, but it is a must for completists.
Availability: This one is unfortunately (or fortunately, depending on who you ask) not available on BluRay, but on a few medium quality DVDs.


---
Ace High (I Quattro dell'Ave Maria, 1968)
This is the second of the three spaghetti westerns in Colizzi's filmography. Joined by Eli Wallach and Brock Peters, it has a more epic ambition than the first movie. Part heist movie, part road movie, it tries to rank among the larger than life spaghetti westerns, but it collapses a bit under its own ambition maybe.
Availability: It has been announced on BluRay for the USA this September, albeit only in Paramount's version that is at least ten minutes shorter than the original release. Click here to learn more.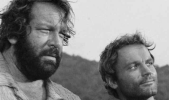 ---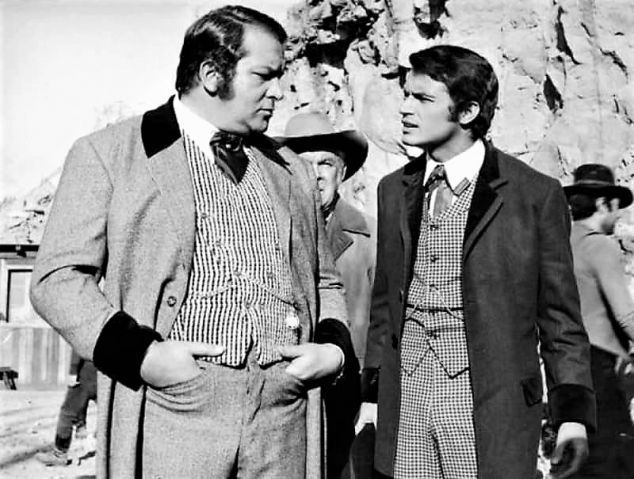 Beyond the Law (Al di là della legge, 1968)
I have the feeling this one used to have a much better reputation at some point, but I do realize how it tries to walk a balance between gritty and lighthearted. It's only so-so availability prevents the majority of the community from properly re-discovering and re-appreciating this one right now. In a way, it has always kind of walked in the shadow of others, like Death Rides a Horse.
Availability: Availability is not great (only a bad German BluRay). It used to be better on DVD, but if there's a movie that is way overdue for rediscovery on HD, it is this one. Where is Arrow when you need them.


---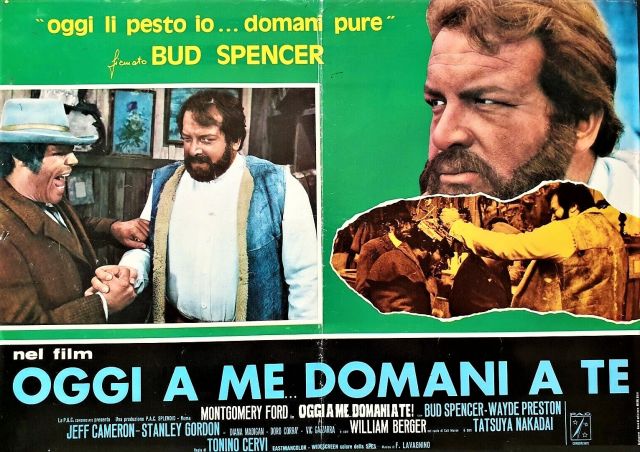 Another one that is slightly obscure but has a lot of fans actually. It is almost part of this east-meets-west subgenre, it brings some Samurai skills on board with Tatsuya Nakadai, much like Mifune in Red Sun. Spencer plays a less prominent role.
Availability: Again, not too great. There are signs however that new releases are coming, in the meantime importing it from Scandinavia may be an option.


---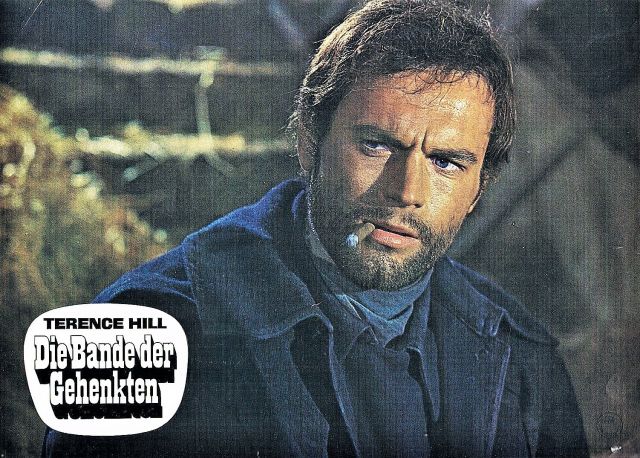 Viva Django (Preparati la bara!, 1968)
Django, Prepare a Coffin as the movie is also titled, is an almost official sequel to the original Django, or rather a prequel of sorts. Terence jumps in for Franco and the movie, in its unedited version, is a mostly gritty, violent and rather smart revenge story that delights fans to this day.
Availability: Excellent, with the German or UK/US Arrow releases being your best choices.


---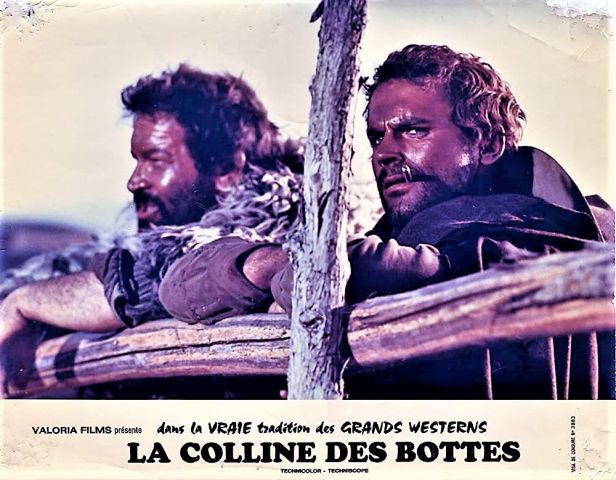 Boot Hill (La Collina degli stivali, 1969)
In this last installment, Giuseppe Colizzi once more has the two put on their gun belts. This time they are joined by Woody Strode and George Eastman. It is a well made, if a bit uneven, finale to the trilogy and by some accounts one of the most sought after spaghetti westerns, notoriously being the first movie that famed label Wild East had put out when they started things off back in the day.
Availability: There is an excellent new German collector's edition that contains every possible version ever released in Germany, and the beauty is that if you can stomach the price, there is English audio on board as our review attests.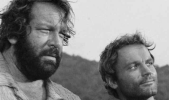 ---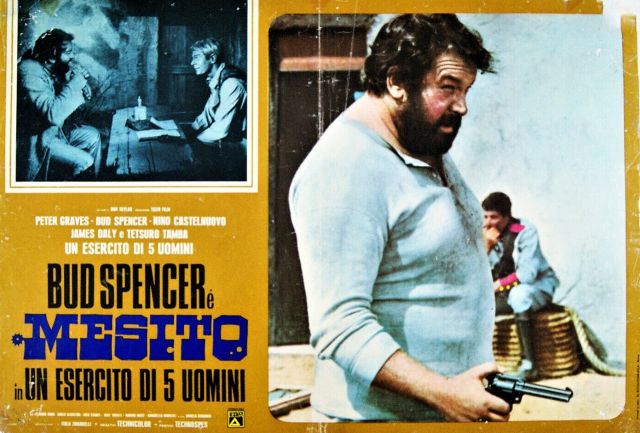 The Five Man Army (Un Esercito di cinque uomini, 1969)
Almost more of a men on a mission movie than a western. Sometimes mixed up with both A Reason to live, a reason to die (further below) and Today it's me, tomorrow it's you (see above), for different reasons. Another east-meets-west, with Tetsuro Tamba getting top billing to suit the Japanese co-financers. By now it should be clear that Bud has a leg up in serous westerns.
Availability: Super bad unfortunately, but it is available on DVD on out of print editions. I really wish this were to come out on BluRay soon.


---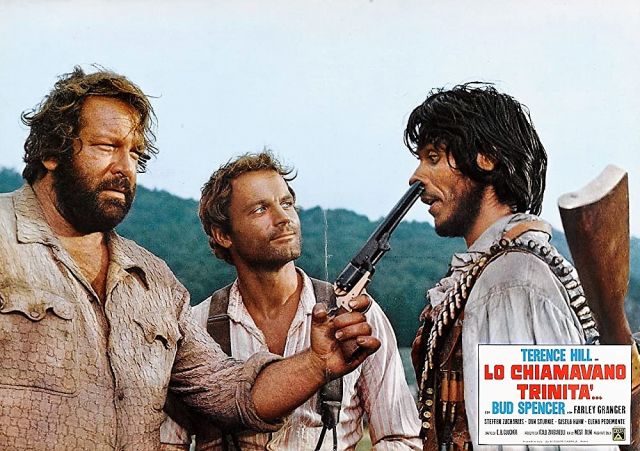 Hard to fathom that it took that many movies until they made the one that brought them intergalactic fame and success. With the spaghetti western on its deathbed already, Enzo Barboni turned to slapstick and it turned out to be solid gold.
Availability: It is available on BluRay, and there was even a new restoration done in 2021 which has so far only been released in Italy however.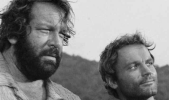 ---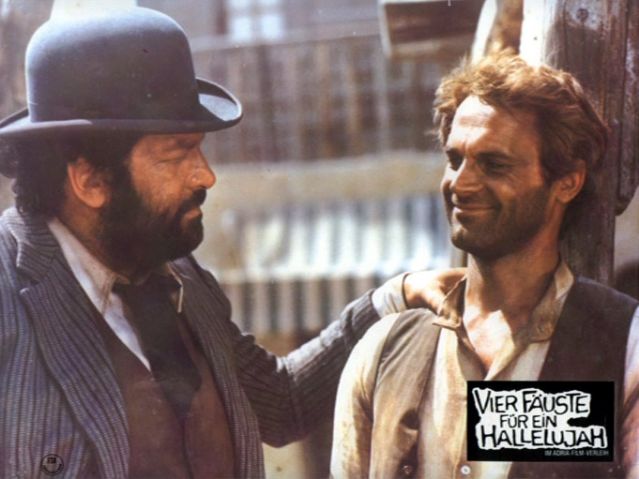 That's how successful the first one was, the next one had to be in theaters right the following year. And it is a real sequel of sorts, not merely a rehash of the same idea or distributors changing the name to make an unrelated movie seem like a sequel. Both movies are a lot of fun and stand for some of the iconic moments we know and love the duo for.
Availability: Also available on BluRay.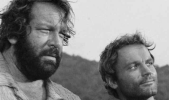 ---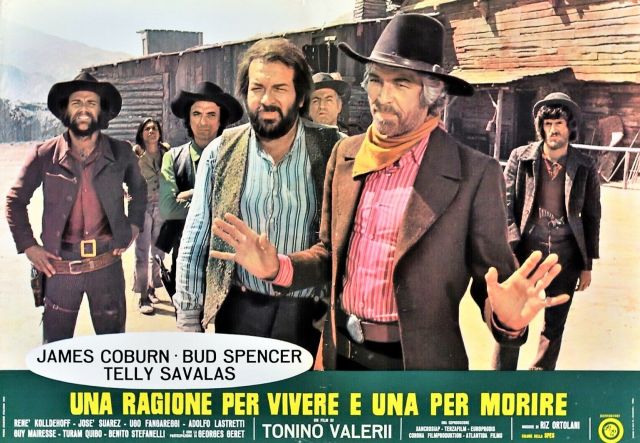 Bud wasn't done with serious western adventures, so he rides out with James Coburn and Telly Savalas for another crazy mission. This is one of those movies that cut censored and redubbed in Germany to be marketed as a comedy.
Availability: While it is available on BluRay and some newer DVDs, it is the uncut 110min version that is still mostly absent from shelves. So the situation is still not great.


---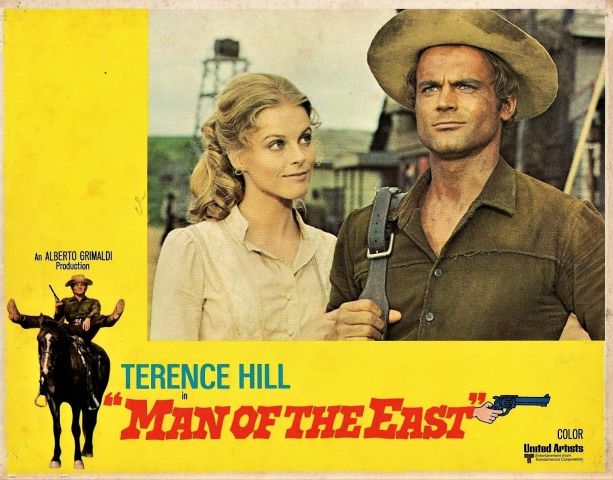 Man of the East (…E poi lo chiamarono il magnifico, 1972)
This has always had a special place in my heart. It's super cute, takes a lot of cues from your choice of Paul Newman or Robert Redford movies, uses a lot of Barboni themes while staying serious and modern at times as well. Terence must have enjoyed this one a lot as well, he sparkles and shines on screen.
Availability: Well available on BluRay.


---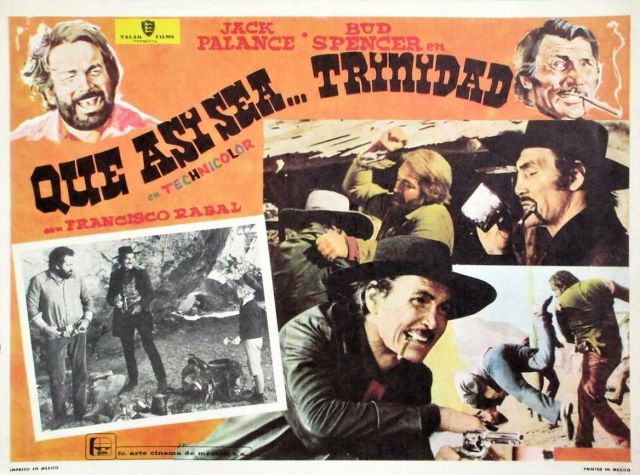 As @scherpschutter wrote "Although not particularly distinguished, It can be done, Amigo is good fun". Walking a line between comedy and serious film, Spencer at the peak of his western career is paired with Jack Palance in a movie that… let's put it this way… will certainly be seen in a better light if re-released on a nicely restored uncut version at some point.
Availability: Available on tons of average DVDs and on one German BluRay.


---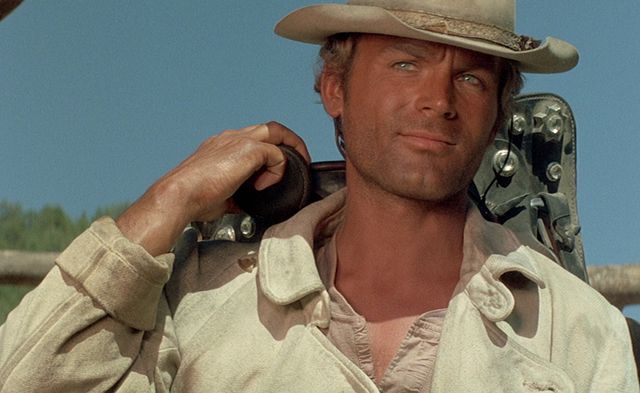 Sergio Leone thought that Once Upon a Time in the West had already been the western to end them all, but there was thirst for more, and with Henry Fonda and Terence Hill at the helm, success was almost certain. In the hands of Valerii, and with some help by Leone, this semi-serious epitaph to the spaghetti western does have its merits but certainly isn't a late masterpiece. Hill's performance however, is nothing short of iconic.
Availability: The movie is widely available on BluRay.


---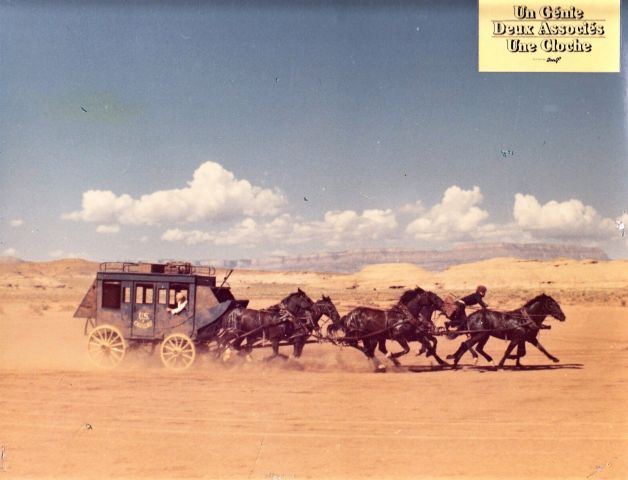 Not in fact an actual sequel to My Name is Nobody but often marketed as such, this hamfisted attempt at a late epic suffers from a horrible script. The end result is all over the place, and neither Terence nor the great locations and decent production value can save it. Watch it as an oddity, appreciate it for the references, then drink to forget.
Availability: A BluRay is available in Germany, Korea and Spain. Availability on DVD is better.


---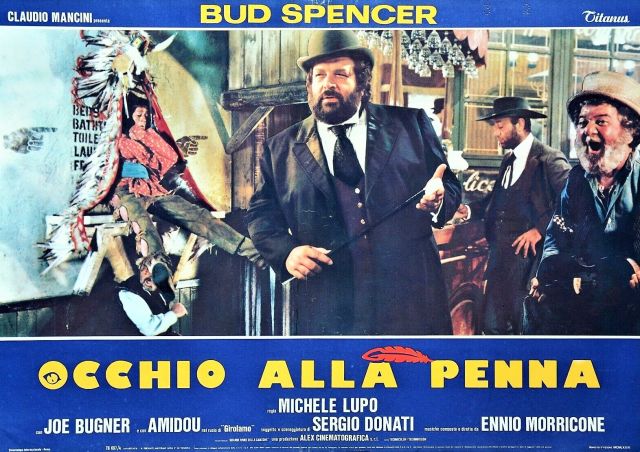 Almost as if the two had to alternate at the box office, six years after Terence's not so glorious outing, Bud saddled up to go west another time. Veteran director Michele Lupo (California) directs him in a light hearted movie shot on Once Upon a Time in the West locations as actually a bit of a duplicitous character with a heart of gold, who ends up helping poor villages fight of gold thirsty bad guys. At his side is French acting legend Amidou, and the story by Sergio Donati works just as Ennio Morricone's music does. Fans should feel right at home.
Availability: There are BluRays of this but not in a lot of countries. The situation on DVD is not too much better.


---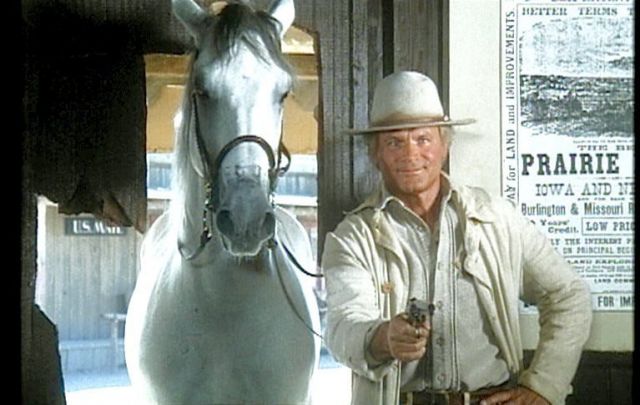 The famous Belgian comic strips are here turned into an 8-episode TV series that followed a feature length movie sub-titled "Daisytown". Terence does a great job portraying his own brand of Luke (in 2009 Jean Dujardin pulled off a performance that is much closer to the comic strip but at the same time more ironic). This has been a childhood favorite of many, and despite its tame appearance is full of smart jokes and some old school spaghetti western styles.
Availability: Germany is the only market this has so far come out on BluRay, even in an edition that provides the fully uncut feature. No other editions are known. On DVD, some releases of varying quality are available in a few more countries.
---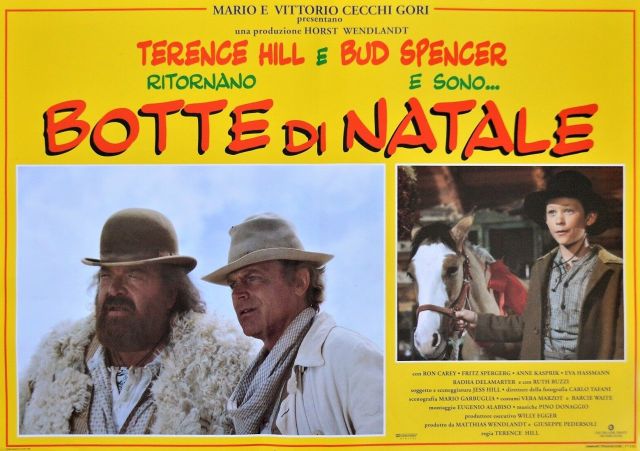 25 years after the last of their serious spaghetti westerns, they brought Bud and Terence back for an actual western that Terence ended up directing instead of Enzo Barboni. Clearly intended as a throw-back to their Trinity dynamic (but some issues, and likely a disagreement with Barboni, prevented the production from using these actual character names), the movie centers on two unlikely brothers, that are less modeled after Trinity and Bambino, and yet it's hard not to compare it. The movie doesn't quite live up to the 70s standard of family friendly western slapstick and ends up being a rather goofy kids movie, but spaghetti western fans will nevertheless have to check this one out.
Availability: not too great, but there are BluRays in Germany and the Nordics, and DVD releases in a lot of markets.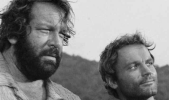 ---
There you have it, and of course I did not include La Collera del Vento (aka Revenge of Trinity) because it is in fact not a western in the first place. I also skipped the four Karl May adaptations Der Ölprinz, Old Surehand, Unter Geiern und Winnetou II Terence appears in to keep this list simple, and I skipped the two TV movies Doc West and Triggerman as well. The final tally is at 12 movies for Bud and 13 for Terence, with 6 movies that they both appeared in minus those aforementioned that I excluded.
Terence Hill of course is still out there spreading this glow, whereas Bud has unfortunately left us in 2016.
Further reading:
Postscript: Back in 2010 we did a small Spencer-Hill Special which is a bit outdated now but worth a look nonetheless. It contains links to a number of reviews and other interesting information.
PPS: If you made it this far, a little bonus extra. @Phil_H and I paid a visit to Berlin's Bud Spencer museum this month, which should be on your list if you visit that city. Among the many exhibits are original shooting scripts of the trinity movies: