Issue 1 of Spring 2020 is out now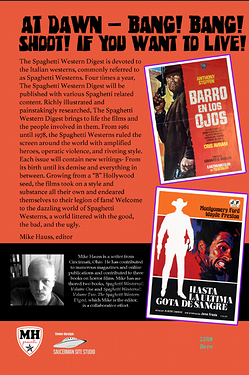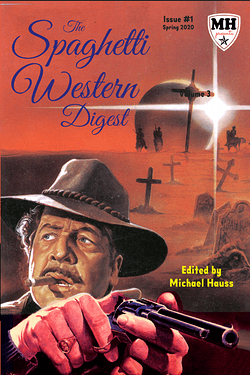 All the details:
https://www.spaghetti-western.net/index.php/The_Spaghetti_Western_Digest_Issue_1
Wonderful effort, @Djangoisme ! Congrats!
Wow, this reminds me of Famous Monster's of Film Land that my Dad used to get when he was a kid. Will definetey be picking this, and future issues up.
How often will this be published, monthly, bi-monthly, or quarterly? My Dad has a subscription to a classic toy train collectors magazine he gets quarterly.
Hello there and Thanks. The Digest is slated right now for four issues a year. Shooting for issue #2 to be available in August-September of 2020. Published through Amazon. Thank you.
Thank you Mr. Hauss, for bringing back the classic film fan magazine like the ones from the 60's. If you would like any contributions to latter issues, I'd be than happy to write something based on what you're planning, or if you prefer sporadic material. I sent Admin Sebastian an email about getting in contact with you which he kindly forwarded to you, but I figured covering all my bases wouldn't hurt. Looking forward to getting issue one soon.
Hello there, Have you written for any online sites or magazines? My name is Mike!
Best
Mike
Yes I have Mike, I have my own blog www.moviefanman.wordpress.com, where I write under the pen name Tony Nash. I've done reviews for The Specialists, Thompson 1880, A Dollar Between the Teeth (aka A Stranger in Town), all of the official Sartana films, Black Jack, etc. A good bit of them have links via said film's database page. Some of my Giallo reviews are also published on the The Grindhouse Cinema Database. I've also sent some of my material to High Def Digest, and the owner liked my material, but no openings with them are currently available unfortunately. I mainly want to get my writing style out to a wider audience. I hope you find my material satisfactory and consider me for contributions. Thank you.
Send me your email address and we can discuss it.
New series. Written by various contributors. All original material!
Robert Woods gave a huge thumbs up to Mike in the last podcast
Preview of Issue 2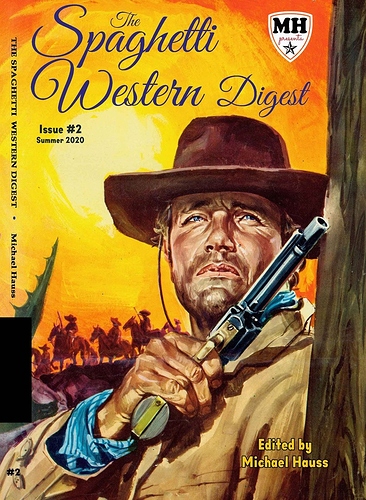 Make sure you buy the first one if you haven't already
https://www.spaghetti-western.net/index.php/The_Spaghetti_Western_Digest_Issue_1
Anyone know if there is a black-and-white and colour version of issue 1 as I saw a copy on Amazon UK described as a "colour" version, at a higher price?
Hello! Just a Color or Black and White version. Amazon is totally ridiculous on their color book prices and that's who the book is published through. Thank you!
Thanks Mike - I have it on order!
Thanks for the support!
Mike
Hi Mike any update on your Digest Vol 2? I've been checking Amazon every few days for at least a pre-order link. But so far nothing. Looking forward to it…
Thank You! It will be out by the end of this weekend! 245 pages! Thank you for the support!
Hey there Amigos, Tony Nash is the pen-name I write under professionally and on my blog, I'm so excited to be in the Digest, and hope everyone who buys the book enjoys my contributions.