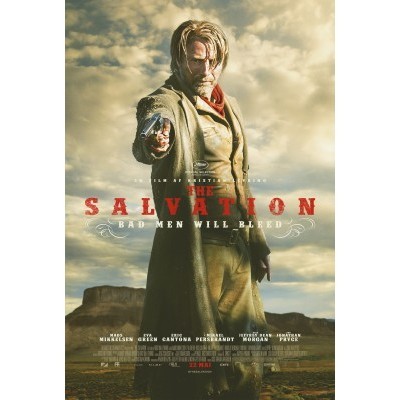 Denmark/UK/South Africa 2014
Premiere: 17 May 2014 (Cannes Film Festival)
Synopsis:
The American West in the 1870s. A danish settler named Jon (played by Mads Mikkelsen), years after fleeing his home country to start a new life, finally manages to bring both his wife and his son to him after years of separation. Shortly after arrival, both get murdered. Jon, enraged and in pain, kills the man in return. Unfortunately, that man was the brother of a ruthless gang leader in the region, who swears vengeance.
Directed by: Kristian Levring
with: Mads Mikkelsen, Eva Green, Eric Cantona, Jeffrey Dean Morgan
A very dark and brooding movie, dealing with vengeance, pain, betrayal and revenge. The movie is very dark and, in places, incredibly bitter, but manages to tell a very compelling story. The production values are mixed: On the one hand, the movie shows some rather jarring, noticable CGI effects. On the other hand, costumes and setting look very authentic (and suitably barren and dirty). Also, why they may not have had much of a budget, you can tell that the director and the actors tried to make the most of it. (Oh and by the way, don't go by the one-sentencce synopsis found on Wikipedia and IMDB - that one is actually pretty misleading!)
https://www.youtube.com/watch?v=4uN2C5Cdcco
I've seen the movie while it ran in german cinemas (last time I checked I've still noticed a few placed that screened it), and I can definitely recommend it. Already pre-ordered it on DVD (scheduled release for germany is February 24th 2015, if anyone's interested

).