The double bill from WE with "Hands up dead man you are under arrest" and "Revenge of the Resurrected" just dropped in so I just watched the latter.
Revenge of the Resurrected is a typical revenge film. The main character witnesses the onslaught of the passengers on a stagecoach where his father was one of the passengers.
During the killing he notices certain characteristics about each of the killers which enable him to seek them out for revenge and eventually kill them.
That scene is very similar to the opening scene of "Death rides a horse"
The film is pretty dark and gritty at times, and most of the actors do a good job in creating trustworthy characters.
At times one gets the impression though that the film was directed by Demofilo Fidani.
3/5
---
For more info visit:
Database page: Dólar de recompensa, Un - The Spaghetti Western Database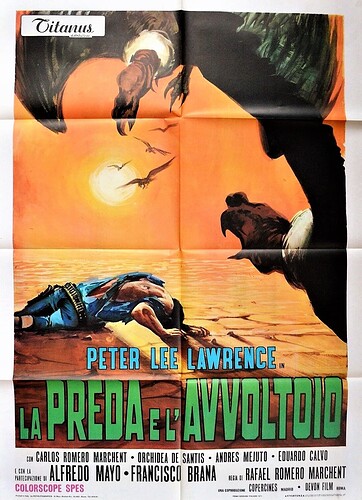 Give Revenge of the Resurrected your rating out of five stars!