Oh my god, this has to be the BEST Spaghetti-Western ever! :o
I saw it yesterday on television, sadly in an edited version (I heard, that some violent details where missing), but "Il Mercenario" turned out to be a great experience, nevertheless. Very tough, then very entertaining in a sort of "Whooohoo"-type of way, never a dull second. I particularly liked that assault with the automobile and the mounted machine-gun. And of course the music. "Il Arena" by Ennio Morricone is pure goosebump kind of music and the final duel in the Arena must be certainly the greatest stand-offs I've ever seen. It felt so epic. I can't think of a more perfect balance between images and music-score. It's just sad, that this scene wasn't the end of the movie, there were still some plot-twists to follow after, which felt a little rushed, but overall they didn't affect the quality of the movie. I gotta have the DVD. But I'm afraid there's not a lot of decent stuff out there, concerning "Il Mercenario", right?
---
For more info visit:
DATABASE PAGE: Mercenario, Il - The Spaghetti Western Database (spaghetti-western.net)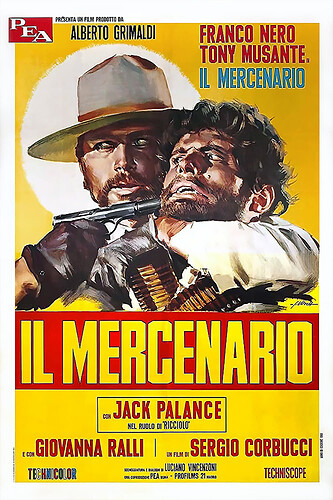 Give The Mercenary your rating out of 5 stars!