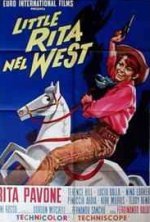 I saw this film for the first time few days ago. The version I saw was in german language so I didn't understand much about the dialogue but that didn't bother too much as the film is mainly songs and musical numbers.
I have to admit that I enjoyed this film very much but probably most of spaghetti western fans will hate it. There's lots of inside genre jokes like Rita fighting with Clint Eastwood look-alike and Django (dragging a coffin with his hands crushed). Hilarious title sequence too which is in Pink Panther-style animation. Oh, and Rita Pavone is quite cute.
I need to see this in english some day or preferably in italian with subtitles.