No pudo ganar el duelo.
Aldo Sambrell murió ayer dia 10 de julio.
Descanse en paz (RIP)
That is very, very sad news indeed.
Rest in Peace Aldo.
Sad indeed. What a guy…RIP.
Incidentally I saw KILLING MACHINE today and Aldo had a small role… One of the most recognizable SW faces. RIP Aldo.
One of the very best spaghetti character actors
R.I.P. Amigo.
What sad news. only a year ago or so I received an email from him, that was shortly before his health condition changed

rest in piece aldo
http://www.spaghetti-western.net/index.php/Category:Aldo_Sambrell
I will really miss my hermano, Aldo.
May he rest in peace.
Hasta luego, Aldo!
Muchas gracias…
When I found out about his condition I knew the writing was on the wall and it was only a matter of time, but I dreaded this day all the same. That day has come and all I can do is pay respect to him for being an icon of the SW genre and a class act in person. I hope before he passed he knew that he was just inducted into the SWDB hall of fame, inaugural class. A small tribute, but it comes from our hearts.
RIP
I wonder if he ever read these pages
RIP Aldo; another Spaghetti great gone from this world. :'(
As Col. Mortimer stated several of us knew the writing was on the wall but it doesn't make it easier to take. Chris Casey and I knew the man personally and he was a true friend to many of his fans. We shared food and tequila together and had some great times here in California and in Spain. I just watched Aldo in "Tomb of the Pistolero" on Wednesday. There's a huge void left in the Spanish film industry with his passing. Thankfully he did some many Spaghetti westerns we will always see his face up there on the screen and TV sets. Sad to see you go Aldo. Say hello to Sergio, Lee and Don Bruce for me and we'll ride the ramblas again somewhere down the trail. RIP amigo. :'(
Can't say I'm surprisied with all the news of his health.
Very sad indeed. May he rest in peace.
That's really a great loss!
R.I.P Aldo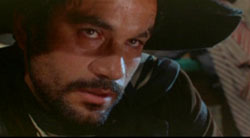 R.I.P.
Personal favourite roles: the renegade in FACE TO FACE and (a rare chance for comedy) the goofy bandit in BAD MAN'S RIVER.
A truly great SW actor and an icon of the genre
RIP