Well, Di Caprio looks a bit like Franco Nero, Foxx definitely doesn't though. ;D
They look very, very good. Then again, that's hardly surprising: Robert Richardson is shooting the film.
Particularly Di Caprio looks cool. I hope the movie will be as good as costumes.

i cant wait for this christmas! django is going to fuck peoples worlds up
I hope you are right! Western films needs a shoot in the arm these days. And if one man can bring the westerns back big time! It's Tarantino.
I'm actually hoping it will encourage DVD companies to release high quality, correct aspect ratio editions of great Spaghetti Westerns.
I think it will…I put a note in a post yesterday that a retrospective is coming in June to the Film Forum in NYC… link is:
http://www.filmforum.org/movies/more/spaghetti_westerns
A lot of times when they have retros like this, updated DVD's come out months later, with the films cleaned up and updated. Maybe it will all tie in with Tarantino's movie.
That happened when they did an Orson Welles retro years ago - a lot of "never before seen" stuff that came out on DVD afterwards.
don't really see how or why it should tie in with Django Unchained, but nevertheless cool to see retrospectives like this, which btw happen all the time, just a mater of knowing that they take place and when and where
In terms of how and why, I would think money. Maybe there's a fair amount of Tarantino fans who would check out some quality DVD's of SW's if they like his flick. Then again, a good 10 of the 25 films they're showing at the Film Forum are already out on Blu-Ray, so maybe I'm just whistling dixie…
I wonder where this pic is from: http://wiki.tarantino.info/images/Trailerscreenshot1.png
It reminds me of a certain type of spaghetti landscape seen in many films, for example GBU, where Tuco is captured by the three bounty hunters: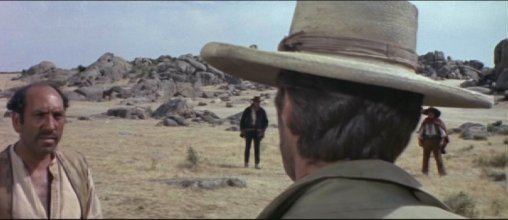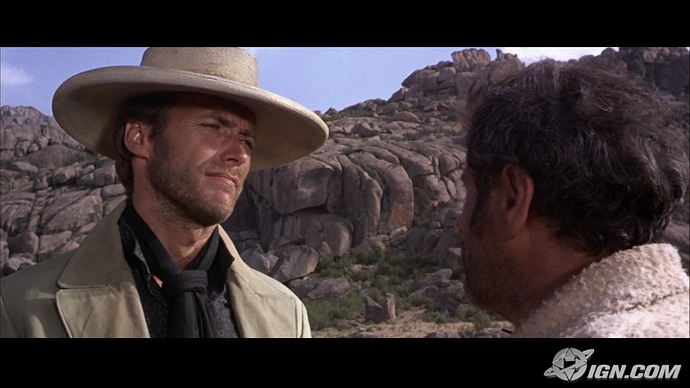 I like to think that Tarantino maybe chose it because of that similarity.
tarantino is no1 …
he is a genious freak that I adore…
Django Unchained soundtrack listing revealed! Apologies if this has already been posted.

http://www.examiner.com/article/django-unchained-soundtrack-collects-spaghetti-western-classics-and-surprises
A new piece called "Ancora Qui" by Ennio Morricone? Great stuff! I just wish he could have done the music for the entire film.
Goddamn… looks so beautiful! 8)