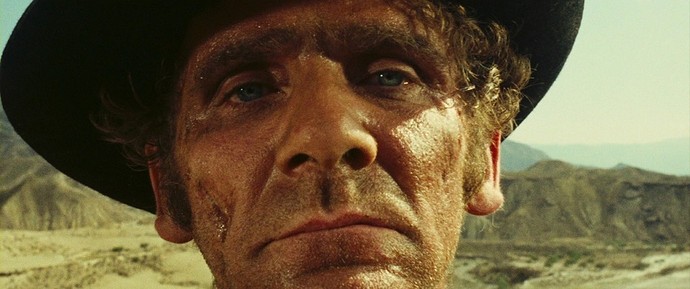 The Ghost Town - Sierra Alhamilla, Almeria
Our clue to the location of the Ghost town, which features in the opening scene of GBU, was that very first brief shot of the Almerian hills that are suddenly blotted out by the grotesque features of Al Mulock looming into giant close-up from such an unexpectedly unusual direction.
Don had been studying the photos he had taken in 1999 of the purpose-built Western town, generally referred to as Tex-Mex, and believed he had a fairly close match with the background hills. He felt that the Ghost Town may have originally been built on the same plateau, but was prepared to accept that it probably no longer existed.
According to Jose Enrique Martinez Moya in his book "Almeria, un Mundo de Pelicula", Tex-Mex is known as El Poblado de Juan Garcia. It was to be built with investment from Sergio Leone, Juan Garcia and Alberto Grimaldi in order to be used for Leone's next project (GBU), and then leased out for future Western Productions. Before the project was completed, Grimaldi was forced to back out, because of pressure put on him by his Spanish distributor Cesareo Gonzalez. The new town was obviously going to be in direct competition with the El Paso of FAFDM, and El Paso was now owned by Arturo Gonzalez, Cesareo's brother. If Grimaldi went ahead and the new town took business away from El Paso, Cesareo suggested that he wasn't going to be able to handle the distribution of Grimaldi's films in Spain as favourably as he had been doing.
However, Juan Garcia continued with the project, creating a town styled one-half Mexican, and one-half American, and the place became so popular and successful that whilst El Paso crumbled into ruins and eventual resurrection as a theme park, Tex-Mex is still being used as a film location to this day, but they now call it Fort Bravo, and it is a theme park.
To get there, you used to take the Almeria - Tabernas road, and at the bridge just before town, you would suddenly turn off down a dirt track to the left-hand side, and follow the river bed curving back towards Almeria for about a quarter of a mile. Then you would take a sharp left turn up a steep track onto the plateau and straight into the town.
Back in 1972, that's how I got there, but foolishly I didn't keep my speed up during the river-bed part of the route, I didn't stay on the harder edges of the track, and I ended up stuck in the soft sand. Fortunately, the caretaker at Tex Mex had a shovel and a generous nature, and since I was only driving a tiny SEAT car, it was pretty easy to get me out of the rut and moving back onto hard ground.
These days, there's a fairly substantial hard track leading directly to the town, which branches off the main highway just before the bridge. Although there is a veritable Spaghetti junction of dirt tracks sprouting off every end of the bridge in all directions anyway, so you are a little spoilt for choice.
When Don, Marla and I arrived in year 2000, there was a full Production Company inhabiting the place. New buildings were going up, the streets and hacienda were being decorated with authentic-looking props, wranglers were chasing unruly horses, carriages were getting a new lick of paint and polish, and a large girder and corrugated tin warehouse was under construction at the back, possibly to shoot interiors, store props, or house post-production facilities. This was for an International Co-production of the TV series QUEEN OF SWORDS ("don't mention Zorro"), set in Old California, and mainly occupying the Mexican end of town.
We spoke briefly with the American stunt co-ordinator/Sword Master Anthony De Longis who was really proud of the work he did teaching Ellen Barkin to use the bullwhip in WILD BILL, and Michele Pfeiffer's whip-work as Catwoman in BATMAN RETURNS. He was particularly pleased that Michele had bothered to mention his sterling work when she demonstrated her newly learnt skills on Television.
He'd just received a package from the States containing several of the latest DVD movies, and the little group of American crew members gathered around him were getting really excited at the titles he was pulling out of the box. I promised him that he'd enjoy US MARSHALS, but some of the others were so new, nobody had heard of them.
"Listen," he said, "the reason this package is the highlight of our lives is because we've been out here for two whole months!"
He seemed to be enjoying the work, however, and we watched him for a while training one of the cast in the correct procedure for handling what looked like a very heavy, very long and very sharp double-edged sabre. After a little chorus-line practise with footwork, and some demonstrations of thrusts and parries which, with Anthony's careful attention and instruction, the actor meticulously copied, they turned to face each other and began to duel. It all looked very exciting and incredibly dangerous as those silvered blades flashed in the Almerian sunlight, noisily clashing against each other with alarming speed and ferocity. And I felt that it must have taken a lot of courage and a lot of skill for Anthony to stand there and face the fledgling sword thrusts of someone who only a short time ago had probably picked up a sword for the first time. But he was obviously a master of his craft, and made everything look so easy. I didn't tell him that I had once studied Japanese sword - he might have proved to me how inept I really was.
Despite the fact that there was a crew at work, Tex-Mex was still open to tourists, and like Anthony said, "so long as you stay behind the camera, nobody really minds."
Over in the Western side of town, away from the bustle of the film crew, there was a tinny loudspeaker playing famous Western themes from an open window above the Saloon, and inside its dark and cool interior, there were refreshing beers to be had. The walls were covered in posters and autographed photographs in impressive frames, all signed by the stars who had worked here, and almost all dedicated to the man who ran the bar and, if asked, would open up the little souvenir shop in the back to sell you straw hats, scarves, painted mugs and postcards. There were obviously too many of the framed pictures to hang up all at once, and Don was open-mouthed when he spotted a whole bunch of them stacked on the floor in one of the little store rooms, particularly as the most prominent one was of Giuliano Gemma from TEX, AND THE LORDS OF THE DEEP.
"I'll go round the back, Mike, and you pass 'em through the window," Don says.
I think he was half serious.
"You can't get a genuine Giuliano Gemma autograph, " he explained, " That would be worth a fortune. Do you think he'd sell it - you know, like for real money?"
But the barman just wasn't interested: These pictures were his life's memories, and even if he had to leave some of them to gather dust in a back room, he'd always know where to find them when he needed.
Across from the Saloon is a Hotel, where actor/director Robert Hossein filmed a famous and now controversial scene for his movie CEMETERY WITHOUT CROSSES. The scene features a Hotel Clerk, and the controversy surrounds the oft-repeated claim that the role is played by Sergio Leone.
It's a story that I first saw mentioned in Thomas Weisser's definitive, but often erroneous, encyclopaedia of Spaghetti Westerns which, predictably enough, is called SPAGHETTI WESTERNS. And it's a story now repeated in Professor Frayling's biography of Leone, complete with a full page description on the quality of Leone's performance.
Over a year before Frayling published his biography, I was alerted to the fact that he was going along with the Leone-playing-Hotel-Clerk story by some correspondence on the Sergio Leone web page (http://film.tierranet.com/directors/s.leone/sergioleone.htm), principally with Cenk Kiral, a serious Spaghetti Western writer from Turkey, whose sobriquet is "Embassador of Sergio Leone universe in Turkey", and he is president of theTurkish Sergio Leone Society.
I pointed out to Cenk that I actually possessed two video copies of this film, one English, one German, and in both of them, the Hotel Clerk is clearly seen to be played by famous Spanish actor Chris Huerta.
Cenk must've got in touch with Frayling after our exchange, because a few days later, I got an e-mail in which he says "Frayling thinks that maybe it's some other part that Leone is playing. He could be the barman in the saloon."
And then the sentence that really shook me: "Frayling believes it to be true, because Leone himself told him so…"
Well, as you can imagine, I got the film out again, and watched it carefully all the way through. Both copies. And Leone isn't the barman, either. That's played by a familiar face from countless other Westerns, a gentleman by the name of Angel Alvarez.
So I took some frame grabs of Hotel Clerk Chris Huerta from CEMETERY, and compared them to frame grabs of Chris Huerta from THE INVINCIBLE SEVEN:
Like, if that's Leone, he's also been in several other movies as well.
And I did the same with Angel Alvarez, both as the barman in CEMETERY, and the barman in DJANGO.
Then I sent these off to Cenk, and told him: "Frayling is wrong. Is he sure that Leone said he played a part in this film?"
And that's the last I heard of it, until a year later when I got a copy of Frayling's biography of Leone and on page 268, read with mounting incredulity the detailed description of Leone's performance as the Hotel Clerk in CEMETERY WITHOUT CROSSES.
In the notes at the back, he goes on to say "Some internet buffs have claimed that the heavily disguised Leone never in fact appeared in this film. But his participation is confirmed by everyone I have spoken to about it."
"Some internet buffs" indeed!!!
The name is Mike Eustace, Prof, and I really did try to head you off at the pass and save you the embarassment of putting such an appalling gaffe in print.
However, in print it was, and when I pointed out Frayling's idiocy in perpetuating the myth on the Leone web page, the Prof himself turned up and a heated exchange followed.
Subsequently Frayling appeared before an audience at the National Film Theatre in London to discuss his biography, and one of the net regulars posed the CEMETERY question.
Frayling apparently took it in good part. He admitted that he had made an understandable error in mistaking Chris Huerta for Leone, due to a viewing of a very bad several-generation copy of the film. But he maintained, and this is the bit I have no problem with at all, that Leone himself told him that he had played the part for his "old friend" Robert Hossein.
So, although Leone did not appear in the final cut of CEMETERY, his footage being dropped in favour of a re-shoot with Chris Huerta for reasons which we may never know, we do have an interesting find here at Tex-Mex that adds to the puzzle: The interior of the Hotel set in Almeria is most recognisably - apart from a change of wallpaper, and a very obvious bit of walling-up of a previously existing doorway - exactly as it appeared in CEMETERY. So if Leone played the part, then it was most likely performed here at Tex-Mex in 1967, at a time when he was possibly scouting locations for ONCE UPON A TIME IN THE WEST.
It's ironic that this town, in which Leone had invested such a considerable amount of his own money, was never used by him as a director, and that the little bit of acting he did here for someone else's film never made the final cut.
Now, in case you've forgotten why we are here at Tex-Mex, it's because we're looking for the location of the opening shot of THE GOOD, THE BAD AND THE UGLY. And Don felt that some photographs he'd taken here at Tex-Mex in 1999 showed some distant mountains that were a pretty good match. However, standing here in year 2000, it didn't look so promising anymore; the mountains were the right mountains, but the foreground was wrong; we were too far on the wrong side of the main road. So, no Toscano here then.
And then it struck me: The likeliest place to look was up on the plateau, somewhere near the town built for the Burt Lancaster movie VALDEZ IS COMING. If only I could find my way up there again…
Back in 1972, Almeria was so full of prominent Western sets littering the hills around Tabernas, that it was easy to get lazy and not venture too far afield. When I returned in 1974, I intended to do a more thorough search, and brought a telescope with me to scan the distant terrain for places that might have been built further away from the main highway.
It was whilst I was around Tex-Mex that I spotted some gleaming white buildings on a plateau to the south of Tabernas castle. It could just have been an ordinary village, but it was promising enough to get me to cross the bridge and search the ramblas on the other side of the road for a passable track leading up onto the plateau.
I remembered taking the left fork beyond the bridge, and then turning to the right, up a dirt track that passed to the left side of a white house perched on a rise. By taking this route, I travelled some way up into the hills and presently arrived on a plateau; but with no town to be seen. Where had I gone wrong?
I turned the car around to return to the rambla, and suddenly saw the town shimmering in the heat-haze atop another plateau which was some way behind me, and separated from the vantage point I occupied by a deep ravine. However, this was very promising, because from this distance, I could clearly tell that it was a film-set.
Quickly retracing my route, I decided to take the much steeper track which passed to the right-hand side of the aforementioned white house, and after a very winding and bumpy journey eventually arrived at the town. It was an adobe-style Mexican village, with a large central square, surrounded by buildings on three sides and a large arched gateway on the fourth. There was a hacienda, a church with walled-graveyard and gnarled trees, rows of stables and various smaller houses, and a large circular fountain in the centre, all of it made from plaster caked onto wooden frames.
I hadn't seen the place used in any films, but within a week of getting home, the very next film I saw was BLINDMAN, and there was the town.
When I first met with Don and Marla to help them plan their 1999 trip, Don confirmed that the village also appeared in VALDEZ IS COMING, and we decided that it had probably been built for that film. Don was keen to find it, so I explained how I'd got there, sketched them out a map and left them to it.
Astonishingly, they never found it.
I couldn't understand why. You leave by the right side of the bridge, take the left fork in the riverbed, and then turn right, up the steep track that goes on the right side of the white house. So easy!
And I'm standing there in year 2000, pointing out the white house, and wondering why the only track to the right of it is a rocky dead-ended river bed covered in brushwood. I must've walked up and down on the cliffs around that now-derelict house for half-an-hour, trying to piece together what I'd done in 1974. And Don's muttering something about "faulty memory".
Okay, so let's drive further down the rambla and see if there's another house.
"We already tried that last year," says Don.
"Well, let's look anyway, it might jog my memory."
Of course, it didn't jog my memory, and there were no other houses.
On the way back, we encountered a large herd of goats foraging along this very wide rambla which surprisingly, in this normally dusty-dry sun-baked terrain, was covered in green shrubs and evidencing a certain amount of water gathering in little pools or seeping just below the surface of the soil. It was early morning, and quite refreshingly cool in the shaded parts of the ravine, hemmed in as it now was by towering rock walls. I spotted a goat-herder, and suggested that Don stop the car so that I could ask him for directions.
It was funny how unconcerned these locals were about loony foreigners tramping all over their ancient landscape, and I had to shout to get the guy's attention. When I explained to him that I was looking for a route into the hills, he pointed back the way we had come, and curved his arm to indicate the second ravine along. He then raised his arm to signify heading up onto the plateau, all the while gabbling far too quickly in a language that I could only half understand. i.e: Spanish.
So we went back past the white house, and took the ravine that was to it's right-hand side, just like I thought the goat-herder had said. And after a while, there appeared a track that climbed steeply up the right wall of the canyon, and after much twisting and turning and various tracks turning off in every direction, all of which we studiously ignored, we curved up onto the plateau and found the ruins of the VALDEZ IS COMING town. At least this proved that I generally knew what I was doing, but it wasn't anything like the way I'd remembered it, and I'll just have to add it to that strange rift in the space-time continuum I had once discovered on the waters of the lagoon just outside Venice, as being another mysterious occasion where reality slips you a Mickey Finn.
Anyway, whilst we were poking around the ruins of the VALDEZ town, I glanced across towards the famous mountain; the most prominent one in Almeria that rises up beyond El Paso, and I knew that we were not far away from the opening of THE GOOD, THE BAD AND THE UGLY.
Then following the terrain with my eyes across to the right and down, I spotted a likely-looking piece of flat ground on a promontory and said: "That's the place!"
"I love it when Mike's so certain," says Marla. "It's like when he ran out of the car at the FISTFUL town, and just knew it was there!"
Well, I guess this made up for my alternative-Universe memories of how to get to the VALDEZ town that we'd so fruitlessly explored a little earlier that morning.
The GBU plateau is only a little further on towards El Paso than the VALDEZ town, and since there was no Ghost town there in 1974, one has to assume that Leone had it demolished soon after he'd finished filming. We found the usual debris of rusting nails, brittle sun-dried wood, and white plaster littered everywhere, along with some more modern broken beer bottles and flattened ring-pull cans. Every so often, you'd see holes cemented into the ground that would have carried the structural uprights to the buildings.
It's a short drive down from there towards El Paso, but the dirt track is now very treacherous, and at one point disappears into a river-bed overgrown with stumpy trees and littered with prominent boulders that would wreck the exhaust on the underside of your car, or even worse. We got part way down, figuring that this would be the way Sergio was driven to the location, directly from El Paso, but it must have been a lot more passable in 1966 than it was now, and we eventually had to abandon this attempt and return to the main road by the route we came.
To get to the remains of the GBU Ghost Town, you take the road from Almeria, turn right off the Tabernas bridge from either end, and then follow the rambla that is the second on your left, almost straight ahead of you. (Ignore the vestigial rambla blocked by Palm Trees).The route curves to the left and follows the bottom of the river bed for almost a kilometer from the bridge, before lurching up the side of the ravine to pass a house on your right. Keep on climbing the winding route, ignoring all side tracks until you get to a major fork in the road. To the left it says "Camino Gongoras Cortido", but you ignore this and follow the right fork. Shortly before the second kilometre is up, you reach a second major fork, and again go to the right, heading back in the direction of Almeria. Then, just as your odometer reaches the second kilometre from the bridge, you will be passing the VALDEZ town on your right. Continue for another kilometre along the winding road, and you will arrive at the flat area atop the peninsula where the GBU Ghost Town used to be, and enjoy the magnificent views all around you.
Course, if you've slipped into that alternative Universe that I occupied in 1974, just take the right fork past the white house.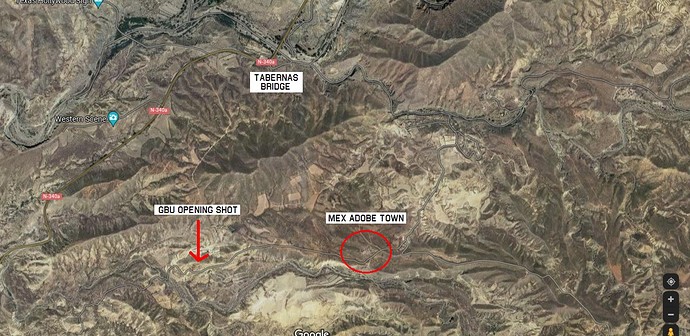 These are the remains of the VALDEZ town clearly showing the circular fountain in the centre.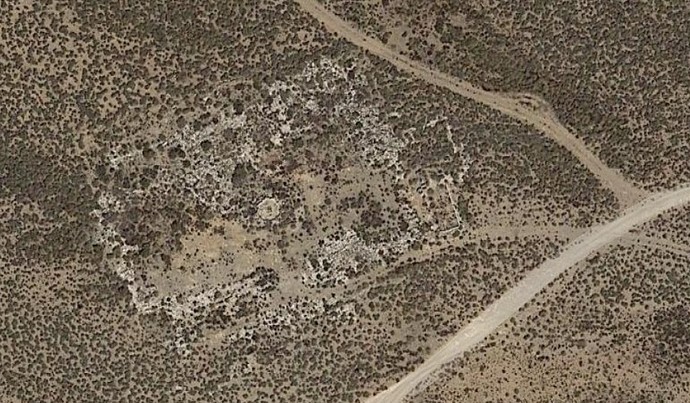 It's actually more of a walled hacienda, and the funny thing is that the main house is of identical design to a house in the adobe part of Tex-Mex. Identical. If you watch VALDEZ, you'll see how they switch between the two. The plateau version is for wide shots, and the Tex-Mex version for closer work, because clearly it was a lot easier to get to Tex-Mex than schlep up to the plateau. Which you will find out if you ever go there. I hope you will.