Entertaining little B-Western with interesting cast:
Dean Reed, Pietro Martellanza (as Peter Martell), Piero Lulli, Agnès Spaak, Linda Veras, Ivano Staccioli, Fidel Gonzáles, Giovanni Ivan Scratuglia.
The story is not very original but some nice action scenes are presented and violence shines through a couple of times: For example when Don Luis del la Vega (Martell) is forcing one of his henchmen to shoot himself in the arm (and is insanely laughing about it) or when Don Luis is torturing Josè with a knife !!!
The German video release b[/b] by Arcade is only running around 75min. but has decent picture and audio quality. According to Kessler there's an Eastern German version b[/b] running around 90min. !??! You all probably know that Dean Reed decided to live in the GDR despising the US Vietnam policy !?
The score by Marcello Gigante fits in very well and even the song "God Creates Them, I Kill Them" sung by Dean Reed himself isn't too bad !!!
What do you all think ?
---
For more info visit:
Database page: https://www.spaghetti-western.net/index.php/Dio_li_crea…_Io_li_ammazzo!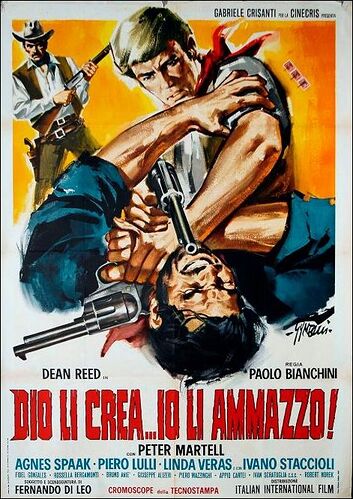 Give God Made Them I Kill Them your rating out of five stars!