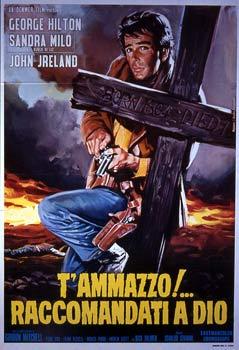 SWDB Info page:
http://www.spaghetti-western.net/index.php/T%27ammazzo!_-_Raccomandati_a_Dio
SWDB Synopsis:
A false priest named Glenn, pretending to celebrate a funeral, is actually burying a great sum of money, but when his accomplices flee with the booty, a desperate search begins! The intervention of the bandit's lover complicates the intrigued plot with tricks, lies and betrayals.
---
Didn't find topic for this one. I put it in my watching list due to the info of our database, which mention one character called "The Portuguese". The movie is quite entertaining.
Anyone?