Well, if it happens you'll owe me a beer. One of those massive German ones

Kill Them All and Come Back Alone UK Blu-ray by StudioCanal under their new "Cult Classics" label
Amazon UK: https://amzn.to/3vTsh07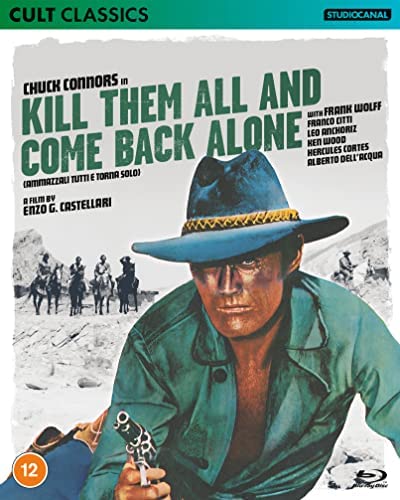 Kill Them All and Come Back Alone has become one of my favourite spaghetti westerns over the years but the Koch Blu-ray is already good enough, so I'm a little disappointed it isn't a new title.
Wow, that's pretty cool! Will StudioCanal be including the Italian soundtrack as well as the English dub? I was thinking about getting Australia's Umbrella release, but I'd go for this one for sure. I'll still keep my Koch Films copy as I like the artwork and I like having back-ups of films I really like.
havent found any detailed specs for this title anywhere yet
Sweet, will probably pick this up at some point. Hope this isn't the only SW they plan on releasing.
Same. Didn't care for this film when I watched it, but more spaghetti blus are always welcome from me.
Might have to reluctantly give it a miss then

New stuff for September in Germany:
Calendar updated, a gray market Killer Calibro 32 release in Spain and a Get Mean re-release from BU
Anyone know what the other titles will be in the new Koch Collection? Just received The Hellbenders and - although I don't speak german - it's an excellent release due to the English audio and English subtitles.
In the release calendar rumours I see the mentioning of Death Rides a Horse, Any Gun Can Play, Run Man Run and Tepepa. If true, this would be amazing.
It will be a mix of new/never before released HD titles and some that have been available, both rough and a bit lighter spaghettis, from what one can gather around some German forums. No titles have been mentioned anywhere. Our calendar lists a few as rumors if we have heard those from several sources or if we assume that they still hold the rights to it (Tepepa for example), but they're really just rumors or unconfirmed ones. Stay tuned

Hey Amigos, I E-Mailed the founder of Malombra Films last night and asked if The Road to Fort Alamo would be their next restoration project once The Sex of Angels campaign was completed, and he said that Fort Alamo will indeed be their next campaign project. The Fort Alamo campaign is set to begin sometime in early June as their The Sex of Angels campaign got a 20 Day extension, which will wrap at near the end of May.
It looks great. The first time I watched, it didn't impress me. Too much fistfights. But I think I'll buy it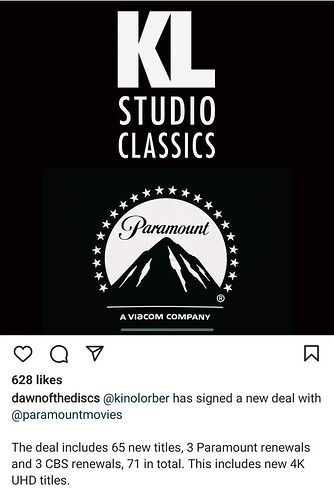 Seems that Kino Lorber has gained 65 new titles from Paramount, including some for UHD. We could be getting Once Upon a Time in the West in 4K announced very soon!


that would be all sorts of amazing, if they do I hope they restore as much of the Italian version as possible, even though it's not a whole lot.
I think Ace High / I quattro dell'Ave Maria is also in Paramount library. Any others?