A couple of months ago I bought "Ben and Charlie" on DVD from Wild East. Have watched it 3 times since then. But first, the specs:
Titles: "Amico, stammi lontano almeno un palmo" (Italy); "Ben and Charlie" (USA); "Stay Away, Amigo" (USA); "Fais attention Ben, Charlie arrive" (France)
Original release: 1972
Starring: Giuliano Gemma, George Eastman, Giacomo Rossi Stuart
Director: Michele Lupo (also did "Arizona Colt aka Man From Nowhere" and "Buddy Goes West" among others)
Music: Gianni Ferrio (also did "Fort Yuma Gold aka For a Few Extra Dollars" and "A Bullet For Sandoval" aomng others)
DVD release: Wild East, 2005
Presentation: Widescreen (not sure of the exact aspect)
Language: English
This movie is billed as a spaghetti western comedy and while it is not laughs from start to finish, it is rather comical and a lot of fun to watch. Basically, Gemma's and Eastman's characters try to stay as far away from one another as possible but they manage to find themselves at the same places at the oddest times, and of course the next question is do they band together or stay away! They have such vastly different personalities: Gemma's character is on the more lighthearted yet slightly naive side, which always seems to bother Eastman's calm and collective side. The balance the characters give here really make this film work so well, and the chemistry between them is phenominal (I wish they had done another movie together!).
Like I said, this is billed as a comedy to some degree. The most comical parts occur when Eastman is bugged by Gemma's sometimes careless antics, which happens quite a bit here. It almost comes off as a big brother/little brother relationship. Very entertaining. And when it's not so comical, it is still excellent. The gunfighting is well done and the dialogue is solid. And of course, the scenery is as spaghetti western as it gets.
The best scene is the poker game they play against one another with everyone watching. So funny. They know eachother so well that they are aware of the other person's cheating tactics and…well, must be seen. So cool.
The transer is phenominal. I like how Wild East let's you see the "old" way the picture looked before they "fixed" it. This usually happens during the credits. Wow. I have several other of the Wild East vids and this one (image wise…and entertainment wise) is one of their best. The musical score is also very good. Not to the point where it could be ranked among the best sw scores ever, but it certainly does the job for what this movie presents. However, the opening song kind of bugged me at first but has grown on me. I actually prefer the "alternate credit vocals" (one of the extras): different song, more upbeat, and the vocals remind me of Dire Straits, heh heh. The only other extras are the picture gallery and the trailer.
A very entertaining movie (in my opinion). Like I said, I've watched it 3 times in the past 2 months. Gemma and Eastman are incredible here (especially Gemma).
8 stars out of 10.
---
For more info visit:
Database page: Amico, stammi lontano almeno un palmo - The Spaghetti Western Database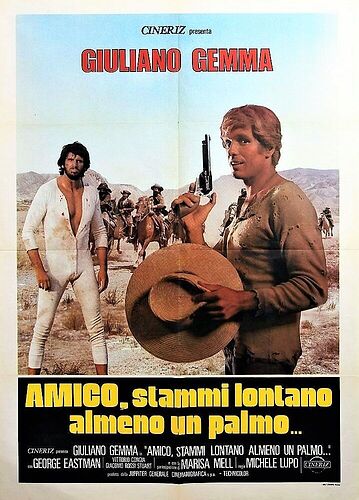 Give Ben and Charlie your rating out of five stars!