http://www.spaghetti-western.net/index.php/Amico_mio,_frega_tu…_che_frego_io!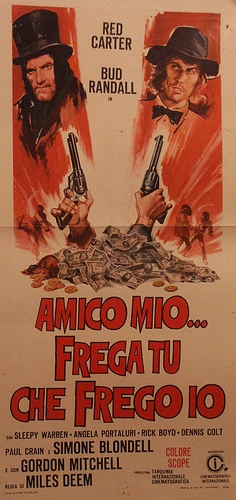 http://www.directupload.net
OT: Amico mio, frega tu…che frego io ! (My friend, damn you … that I do not care!)
Mark Tabor (Bud Randall) learns of an old gold miner where he found a lot of gold.Together with his stupid friend Jonathan Dickerson (Ettore Manni), he sets off on the way to recover the gold. But the crooks Miller (Gordon Mitchell) gets wind of the gold, leaving the returning miners attacked. But Mark and Jonas him throw a spanner in the works!
One must admit at Fidani: His films were always entertaining in any form
So it's with this one, too ! A bad film, but very funny and rarely dull.
It's a little bit slowly, but an OK Film for me.
All in all, one of the better Fidani's.
I hope I does not overvalued the Film :


5,5 from 10 or 2,5 from 5
I have seen a German TV broadcast in 1.85:1. The picture looks like a very good VHS
What do you think of this Fidani ?