This seems to be one of those titles which doesn't crop up much in conversation and I was, having just watched it for the first time , going to recommend it on one of the other threads - recommended/lesser known, or are these spags worth seeing… BUT, in my view, it is so deserving of praise, that I believe that it should have a thread of it's own. This way any views don't get too lost in obscurity - even tho' apparently, the film is. (Imdb have 12 votes but no reviews and give it 4.6/10 - which frankly is bollocks.)
I hadn't watched this film even tho I've had a dvdr copied from a vid, for a coupl'a years or more, because the overall quality - fullscreen, burnholes, (no subs tho' and in English), etc. was pretty damnably poor.
But, going thru' some stuff today this popped up so I stuck it on and was immediately captivated by the music (by 'Forgotten Pistolero' man - Roberto Pregadio) … this started out with a sorta organy/Procul Harem-y vibe and delved into beautiful Spanish guitar as it deemed necessary. It sounded familiar, I thought initially from another movie, but maybe more probably, from a compilation I've recently played.
As testament to how good this film is, the music disolved into action and I was hooked. Never mind the poor quality of the print, the charismatic performance by the great Anthony Ghidra as the gunman John Blood, won me over. Just a bit of a homage to FAFDM as well, as Blood is commented on as being left-handed with a questionably damaged right-hand, which it turns out is primarily used for shooting - and very proficiently he does it as well.
And then he's pitted against an equally charismatic adversary Manguja (Robert Hundar) who's gang of Mexican bandits are happiest when massacreing priests and shooting old ladies in the back.
This film has, if not all, then pretty close to it. Spaghetti-violence … there's arm-wrestling over spikes - so not just holes in the forehead (altho' there's a few of those as well), a plethora of religious imagery (oh joy), a drowning, whipping the 'love-interest', torture and beatings - as you'd expect, a gatling gun, and clues to a treasure written on 3 playing cards (3 Silver Dollars was made the same year). If it all sounds a bit cliched then maybe so … but this film has a style and panache of it's own.
The only slight let-down was the finale, which had the real potential to do more. But overall this was an enjoyable ride, not played for laughs and quite brutal at times, fabulous music and an on-screen presence.
If this ever comes out as a cleaned up version in wide-screen, it'll outdo Yankee anyday!
Highly Recommended - anybody got a decent print out there?? ??? ;D
---
For more info visit:
Database Page: Buco in fronte, Un - The Spaghetti Western Database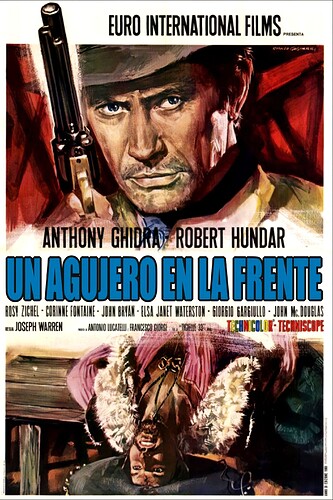 Give A Hole in the Forehead your rating out of 5 stars!