OK, I'll write something as soon as possible.
I've been avoiding Zorro films but I recently watched El Zorro justiciero which I liked, it was just like any average sw only that the hero was masked and did some acrobatics. What others do you suggest?
Zorro il cavaliere della vendetta/Zorro Rider of Vengeance is essentially a western too, there are even Native Americans (!).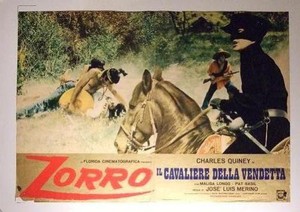 Did anyone get the Blu Ray of the Duccio Tessari Alain Delon one?
Just seen El Zorro (La Volpe) directed by Guido Zurli: in my opinion it is an Adventure film with little or nothing to do with the Western genre, a typical Zorro movie in which the few unconventional elements are a blond, unmoustached and rather effeminate Don Diego and the green-lined cape.
The best sequence is maybe the one including a duel using bullwhips.
Just seen El Zorro (La Volpe) directed by Guido Zurli: in my opinion it is an Adventure film with little or nothing to do with the Western genre
Thanks for the info. I was thinking if this is worth watching but I'll be skipping this one then.
[quote="ENNIOO, post:46, topic:1526"]Viewed The Sign of Zorro / Duel at the Rio Grande ( 1963 ).
Son ( who happens to be Zorro ) is sent on a mission by his mum to find his father. Finds out he has been killed for fighting for the poor, aswell as the fact he had a nice silver mine. He takes most of the film to find out though which becomes tedious, but we have some fighting near the end of the film. Zorro does find a little time to locate his future wife who he will be taking home to show his mum…ah what a nice man.
Directed by Mario Caiano, and stars Sean Flynn, son of Errol Flynn.[/quote]
Viewed a fandub of a Spanish source which is missing the 1st couple of credits including the Sean Flynn credit and the title card. The cast credits are:
Elena Barrios, Folco Lulli, Danielle De Metz, Armando Calvo, Virgilio Teixeira, Mario Petri, Walter Barnes, Gaby André, Tony Soler, Xan Das Bolas, Mino D'Oro, Gisella Monaldi, Guido Celano, Alfredo Rizzo, Piero Lulli
Present also are Luigi Bonos, Pietro Ceccarelli, Aldo Cecconi, Ugo Sasso
Then there is this poster crediting Helga Liné, I remember reading somewhere to watch for her in a small role.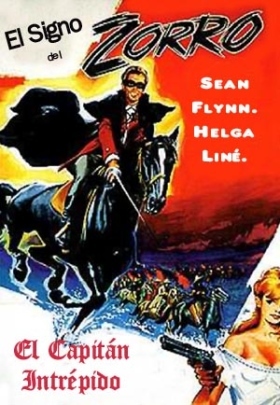 The DB has a rather long list of other credits. I know this version is cut as I saw a few differences in just the first few minutes compared to the German version available on You Tube although the credits are similar.
JonathanCorbett, you wouldn't happen to have the Italian credits would you?
No, but if it would help there are 24 actors listed in the Censorship certificate (the first 19 names, should correspond to Italian credits) and on Anica website:
.
Interpreti/Actors: Sean Flynn (Ramon Martinez y Rayol), Folco Lulli (José), Danielle De Metz (Manuela), Gaby André (Mrs. Gutierrez), Armando Calvo (gen. Gutierrez), Mino Doro (don Luis), Mario Petri (cap. Martin), Gisella Monaldi, Virgilio Teixeira [John Texeira], Alfredo Rizzo, Guido Celano, Piero Lulli, Vittorio Bonos, Luigi Bonos [Gigi Bonos], Fernando Poggi, Aldo Cecconi, Pietro Ceccarelli, Carlo Rizzo, Manrico Melchiorre (c.s.c.), Armand Galou, Mimo Billi, Ugo Sasso, Tonio Selwart, Walter Barnes
I recently viewed Cold Killer[/url] directed by William First (Guido Celano). As he was credited in the cast and also credited in Duel at the Rio Grande, I first checked his acting credit in The Hills Run Red then his other western, [url=http://www.spaghetti-western.net/index.php/Giur%C3%B2…_e_li_uccise_ad_uno_ad_uno]Gun Shy Piluk[url]http://www.spaghetti-western.net/index.php/Uccideva_a_freddo[/url] and concluded:
The sheriff in Cold Killer, Zac Wyler in Piluk, blacksmith and reluctant foster parent in Hills


One of the landowners (with Ugo Sasso) and possible conspirators against Gutiérrez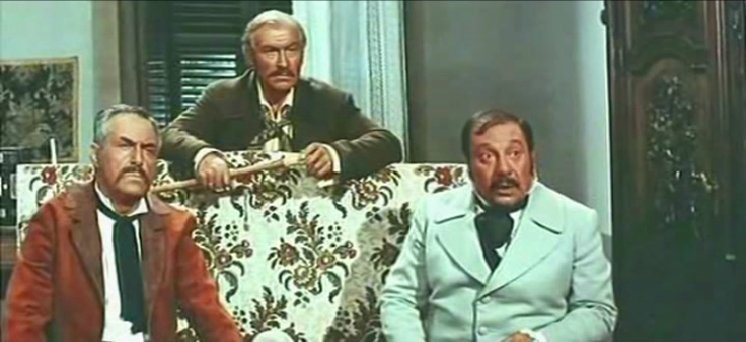 Well done!
The number of recognizable actors in Duel at the Rio Grande seems rather high in relation to the SW average.
Just re viewed Zorro The Rebel.
Mixture of themes in this one in which Zorro struggles with. But the main one is land rights, with a good helping of women problems thrown in for good measure. Lots of Spaghetti regular actors in this good natured early Zorro film.
Zorro contro Maciste (Italy 1963 / Director: Umberto Lenzi)
Most databases list Franco De Simone in the cast, but in the Italian credits it's Franco De Leone.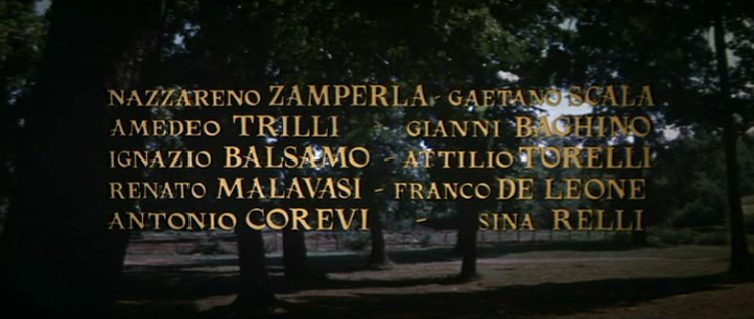 Appearing in several pieces of this period including a couple of other Lenzi films, (
Superseven chiama Cairo
and
Un milione di dollari per sette assassini
), is
Francesco De Leone
. Would it be possible this may be the same actor?
@JonathanCorbett
, might you have any information?
In view of the fact that Franco is a contracted form of Francesco (Gulà was for instance occasionally credited as Francesco) I really think so.
In any case, Franco De Leone is also listed in the closing credits of the highly trashy musical White Pop Jesus (1980).
According to Anica and IMDb in SuperSeven Calling Cairo De Leone plays Professor Gabin, but I didn't see the actor below in Zorro contro Maciste.

Actors in common between the two movies: in addition to Aureli, Serato and uncredited Bruno Ukmar (here General Savedra soldier, just like Mauro Mannatrizio) I noticed this guy. He also seems to be in White Pop Jesus, so we need further checks!


You may be on to something. IMDB has Francesco as the 2nd detective in After the Fox. Isn't this the same guy on the right?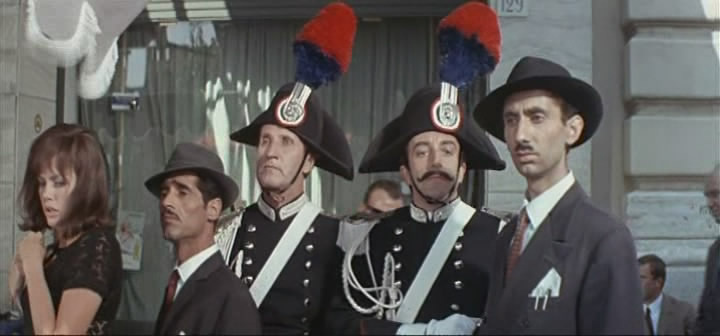 Good! Seems someone needs to re-think Professor Gabin (Gaetano Quartararo)

. What would you say his role is? Queen's page? manservant? attendant? She refers to Gonzalo earlier, but I got the impression he was probably the older guy helping her out of the carriage at Joaquim's pub.
Queen's attendant, or maybe Queen's messenger.
---
Zorro the Rebel
Brief appearance of Jeff Cameron.
Rosy De Leo plays Rosita.
According to Anica, Pollanetsquad and IMDb Alfonso's correct surname is Giganti.
In my opinion Regina Seiffert is without a doubt Conchita - the cantina girl - and not Pilar, the girl with Don Alvarez (maybe Gioia Zanetti, we have to check Zorro, the Navarra Marquis). What do you think?
Regina Seiffert in Capriccio all'italiana (1968)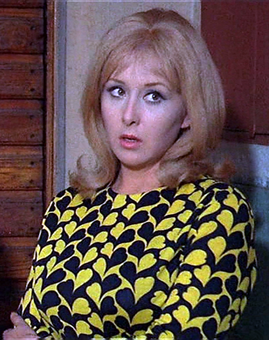 Rosy De Leo in Zorro marchese di Navarra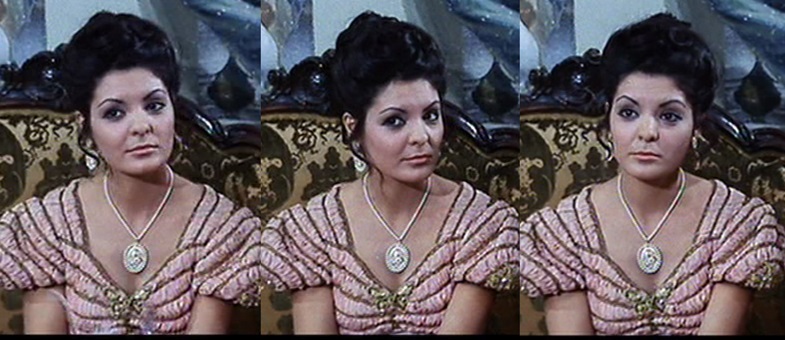 Agreed
Brief appearance of Jeff Cameron. I didn't think so. In my notes I have 'a younger skinnier Jeff Cameron look-a-like'
Rosy De Leo plays Rosita. Yes, Camencita in Zorro contro Maciste
Alfonso's correct surname is Giganti. Yes, of course


maybe Gioia Zanetti, we have to check Zorro, the Navarra Marquis ??

Conchita, Rosita and Carmencita