Tony Curtis has sadly passed away at the age of 85.
R.I.P.
Not a great week. Two of my favorites gone in a matter of three days

Next to Rock Hudson (& Jack Arnold :)) probably the best guy
that came out of Universals post war studio contract system.
He made countless good films.
Funny, talented and good looking he never took himself too seriously
and enriched the American film for many decades. Like Hudson he had
his problems finding more serious roles after the 'classic' Hollywood
genres faded away in the late 1960's. But like Hudson (in the fantastic SECONDS, 1966)
he showed he could carry even a dark sinister drama (THE BOSTON STRANGLER, 1968).
And he gave us a fine daughter too

Some of his best films:
SWEET SMELL OF SUCCESS; SOME LIKE IT HOT;
THE VIKINGS; OPERATION PETTICOAT, THE DEFIANT ONES;
SPARTACUS; THE OUTSIDER.
His autobiography is highly recommended.
Will miss you terribly Tony Curtis!
Couple of rare stills from my archive, some other greats from
the film biz are pictured. 'guess you all recognize them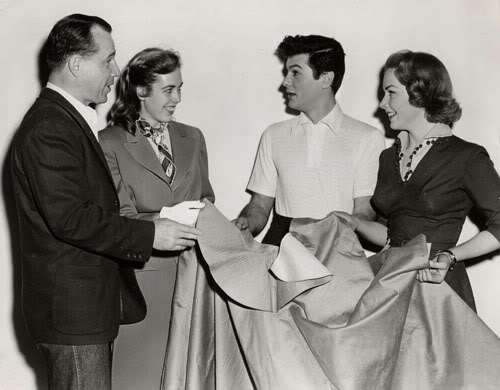 Damn, I'm feeling like the Grim Reaper, but a friend just alerted me that Tony Curtis has died, aged 85.
Sad news RIP
Well there's a long list of films from him, The list of Adrian Messenger, The Defiant Ones, his screwball comedies so many
RIP Tony
RIP
Well I guessed he deservead two threads
I just heard this as well. It's very sad news - so many fine, fine films. R.I.P. Tony! :'(
He was terrific in Sweet Smell of Success and The Boston Strangler - brave of him to take on the latter role.
Have a good rest. Liked him more as a person than as an actor.
I saw Sweet Smell of Success quite recently - he was exceptional in that.
Great photo's Mike of a great actor. R.I.P.
I always liked Curtis. He made some fine films and let's not forget The Persuaders, one of my favourite ITC shows from the 70s.
RIP Tony.
good in the vikings, Spartacus, The Defiant Ones. r.i.p mr Curtis.
Wow, what a shame. Just two days ago I watched one of is earliest films ( Six Bridges to Cross). I've always liked the work T.Curtis did. He made some good films, one of my favorites is ( Trapeze). RIP T.C.
Two threads so merged them. RIP however :'(.
What an awful week ; Sally Menke, Arthur Penn and now Tony Curtis. R.I.P.
RIP. Wonderful actor but maybe a bit of an egotist. However, that could just have been his image. I have no problems with the man.
At first sight, I was weiry of him and maybe thought he was famous only for his looks. But bhe has proved himself to be an exceptional actor. RIP
Liked some of his later appearances on chat shows. Always had something interesting to speak about and such a great personality.