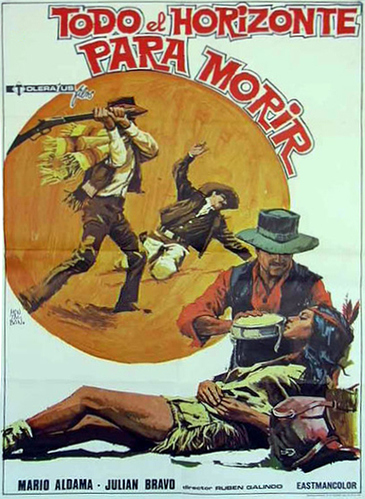 DB entry:
http://www.spaghetti-western.net/index.php/Todo_el_horizonte_para_morir
Watched this tonight in the background while working on some stuff. What I caught was pretty good. Another very spaghetti-ish Mexican western with quite a bit of violence, including one scene where an entire family including a pregnant wife and young boy are killed. There's even some duel scenes at the end.
DVD was all Spanish, and runtime was 79.5 minutes. IMDB reports a runtime of 92min, but I have my doubts about that being correct, because I can't really imagine this version being cut… but maybe it is. Even this DVD lists a runtime of 93min on the back though, so I think its just a case of misinformation that has spread everywhere. Since the film isn't real long and not very talky, may try to do subtitles for this one.
Features a lot of familiar faces and directed by Rubén Galindo.
While looking around, I see another Rubén Galindo that looks worth checking out: Pistoleros Bajo el Sol - this one has a DVD released by Lionsgate.