This Movie is really one of the worst. A lot of stupids scenes, overacting and a very unsympathic Hero named Old Firehand. This guy wears a big beaver cap in Mexico. I hope he didn't sweat too much. There is a really stupid scene in that movie: Winnetou asks other bandits for help! Guess what happens. The other one is the Love Story between Nscho-Tsi and an other guy. People who watched Winnetou 1 will be confused for a while. Has nothing to do with the Winnetou Movies and the SW either.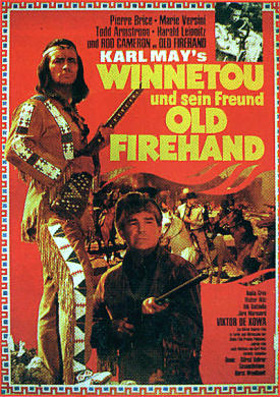 Nice Poster Lindberg! Better than the Movie. It was yesterday on TV and I had to watch it with my nephew.

I watched this yesterday, and it's not that awful. Lots of people getting shot with guns and bow & arrow, also lots of people catching fire. Not bad for a kiddie movie.
I reviewed it in Dutch here:

Little slow to get going but gets there in the end. Like the mixture of people who pull together to help save the day. Sort of missed Lex Barker a little though. Like already sort of pointed out, some the winter style clothing worn by some of the characters was a little over the top for the warm weather.