Ognuno Per Se (The Ruthless Four, 1968/Capitani).
Nice western with a top cast. Van Heflin, who looks like he has been baked in the sun, discovers a mine filled with gold but gets double-crossed by his partner. So Heflin enlists the help of a trusted old friend George Hilton. But Klaus Kinski, who drinks milk and is dressed as a minister, has a strange hold over Hilton. What's going on with this pair! Heflin doesn't trust them and with fear of being stabbed in the back once again, desperately asks Gilbert Roland for help.
The Ruthless Four (in English) is shown on Movies4Men (TV ticker) in the UK and is also [url=http://www.movies4men.co.uk/]streaming for free on their website. Don't know if you can see the stream outside the UK. Try it out! Click Watch Now and look for it on the list. There's a few other westerns up there of the American variety and spaghetti war films too (one with Lee Van Cleef). You'll need to sign-up for free to view the films.
This is a zoomed 4:3 version (before the days of pan and scan). I read elsewhere that it's the only one that exists. I see the German version is four minutes longer than the American version. Does Kinski burn Hilton with his cigar? This is missing from this version if so. Still worth checking out if you've never seen it.
---
For more info visit:
Database page: Ognuno per se - The Spaghetti Western Database (spaghetti-western.net)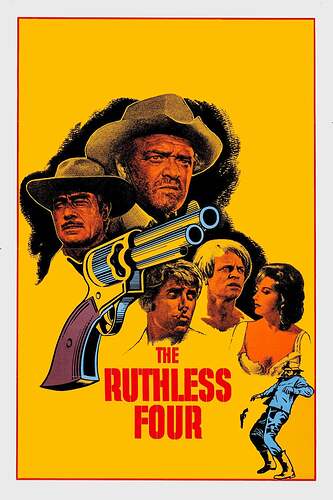 Give The Ruthless Four your rating out of 5 stars!