My thoughts on this film ;D
The Five Man Army are "The Dutchman" (Peter Graves) and four colleagues from previous escapades - Mesito (Bud Spencer), a big brute of a man that can knock out an opponent with a big thump to the top of the head (so, the usual Bud Spencer character then!); Samurai (Tetsuro Tamba), a ruthless sword bearing oriental; Captain Augustus (James Daly), an expert with dynamite; and Luis Dominguez (Nino Castelnuovo) an acrobat turned outlaw and the "baby" of the group.
The Dutchman has gathered the clan with the promise of a $1,000 reward if they can successfully carry out a robbery of a train (bearing gold to the value of £1 million) on behalf of the Mexican Revolution. The catch is that the train is heavily guarded by soldiers, with the military posted at regular intervals along the journey to resist any attempted theft.
This film is an Italian/American co-production, and it does bear traits of both nations particular western styles. It is at times highly entertaining, mostly pretty dumb but always very watchable. The highlight of the movie is the contrasting characters, who are all very likable (albeit fairly clichéd). James Daly in particular has a good role as the ageing Captain Augustus, constantly doubting his (and his colleagues) ability to carry out the heist.
The actual robbery itself takes up nigh on half an hour of this movie, with very little dialogue. The scene is well filmed though and does not drag too badly at all. It also features a great scene where the bodies of the armed soldiers are waved about frantically as a signal to the nearby patrolling military that all is well.
Ennio Morricone's score is rousing (of course), but does sound like a muddled jigsaw of many of his other works. It fits perfectly, however.
It may sound like I am being critical of this film, and I guess that there are a few shortcomings with it. But if you ignore its occasional predictability and just take it for what it is - a highly entertaining yet simple western - you are pretty much guaranteed to enjoy it from beginning to end. I know I did.
---
For more info visit:
Database page: Esercito di cinque uomini, Un - The Spaghetti Western Database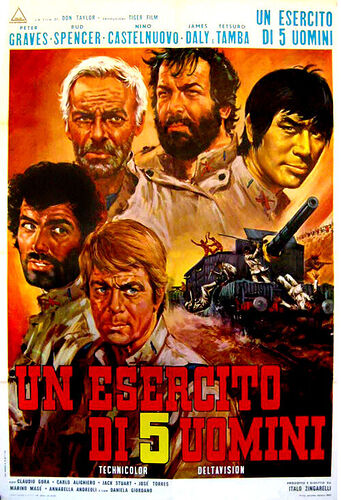 Give The Five Man Army your rating out of five stars!