Welcome to the October 2021 newsletter from in and around the Spaghetti Western Database, your regular newsletter of what happened last month.
Background: See Newsletter category of our forums

All forum members receive this

newsletter. Contact us if you have any questions.
---

NEW STUFF IN AND AROUND THE SWDB IN

OCTOBER 2021:

New around the SWDb: This month we have kept on fixing smaller problems, we added pictures and links and started thinking about redoing the search.
One of the biggest little projects we began has to do with the lusophone community, i.e. Portuguese-speakers. We have started reaching out to our friends in Brazil and Portugal


to fix remaining gaps in the SWDb: alternate film titles that we are still missing, fixing those we have, adding pictures and VHS info and more. You can see some results of that work here: Portuguese Titles - The Spaghetti Western Database and please get in touch if you can help.


@IndioBlack's Hunting Leone series in the location category is definitely worth a read. It is one of this month's highlights.

New and upcoming discs: October was a bit slower than usual as most labels have already blown out what they have or announced their end of the year items, but there were a few surprise additions and also a few great releases.
Great October releases were certainly Wild East's THE UGLY ONES and the UK release of the SABATA Trilogy, as well as the overdue BluRay of BEN AND CHARLIE. November will see a BluRay of TRINITY in Italy, but only Italian language options. There will be not one, not two, but three Explosive Media releases, the fantastic and eagerly awaited UK BluRay of THE GREAT SILENCE. There will be four new BluRay releases in France, among them DJANGO, and THE GOOD THE BAD AND THE UGLY will be released on a 4K UltraHD disc in Italy. Some December titles are also listed in the calendar already.
And we are still fairly sure that not all is said and done regarding this year's christmas season announcements. In the meantime, we have also added some first 2022 titles to the calendar, including a release of Django in Brazil.


Visit the SWDb home video release calendar




The Almeria Western Film Festival took place on October 9 and you can find tons of cool news and pictures on their Facebook page.

The Spaghetti Westerns podcast saw a very special guest this October, and that's none other than my humble self. I wholeheartedly invite you to catch up on that episode by watching it on Youtube, as this was not only a very entertaining and fun conversation but also one of the first times ever that I have gone on record and spilling the beans about the origins of the SWDb. Tune in, enjoy, leave your feedback.

Click here to check out the show archive and show notes or suscribe at

https://www.youtube.com/spaghettiwesternspodcast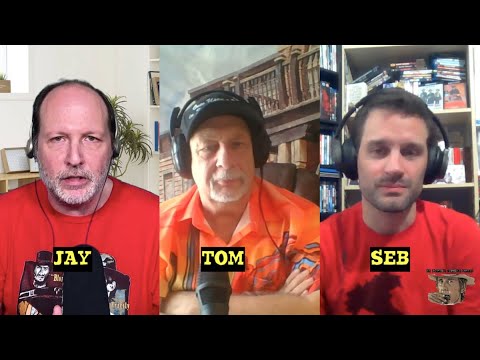 Continuing on a sadder note, our head of obits, @Tom_B had to update the boot hill cemetery with 6 new obituaries. Rest in peace.

Check out "Cemetery with crosses"

Reviews: We have just a few, but exciting, reviews this month…


@davidgregorybell is back and he wrote a double whammy: Damned Pistols of Dallas and Three Dollars of Lead certainly aren't widely known films, but in his double review article "Firing Blanks" he delivers another in depth look at these to surely put them on the map.



There was a continuation of reviews in German at Nischenkino that you can check out. And then there is a review "Shakespeare never did this" about a film that goes by the German title Glut der Sonne written by @Companero_M , can you guess which one it is?
Lastly, this is the start of this year's #Spagvemberfest, so join us in watching spaghetti westerns the entire month of November or… eh… Spagvember rather.




Click here to read a background article about this glorious tradition: The What? Why? and How? of SpagvemberFest!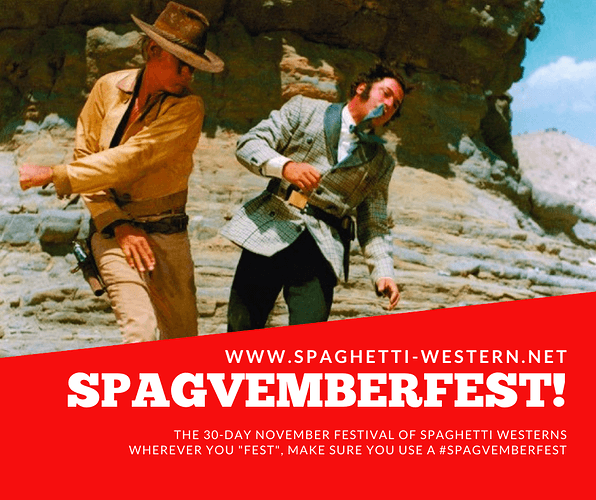 Many thanks to all and everyone who contributed this month, in the SWDb proper, here in the forums, everyone who has emailed us, shared our posts on social media, listened in on the podcast or donated a few bucks our way. See you next month with a roundup of updates. We wish you the happiest new year and hope you check in regularly, discuss, spread the word and contribute.
Highlights:
…and follow us if you're on Twitter: https://twitter.com/SWdatabase