Welcome to the November 2021 newsletter from in and around the Spaghetti Western Database, your regular newsletter of what happened last month.
Background: See Newsletter category of our forums

All forum members receive this

newsletter. Contact us if you have any questions.
---

NEW STUFF IN AND AROUND THE SWDB IN

NOVEMBER 2021:

New around the SWDb:
We can still use everyone's help fixing mistakes in the database, adding posters and lobby cards, fixing missing alternative titles and adding synposis, etc. One of the biggest little projects we began has to do with the lusophone community, i.e. Portuguese-speakers. We have started reaching out to our friends in Brazil and Portugal


to fix remaining gaps in the SWDb: alternate film titles that we are still missing, fixing those we have, adding pictures and VHS info and more. You can see some results of that work here: Portuguese Titles - The Spaghetti Western Database and please get in touch if you can help.


@IndioBlack's Hunting Leone series in the location category is definitely worth a read. It is one of this month's highlights.

New and upcoming discs:
November was slightly exciting on the home video front, and once again chock full or freleases. Also, there have been some new additions to our 2022 calendar that were made yesterday but for the sake of this newsletter I'll count to November news.
The stand-out November releases were a 4K UltraHD release of The Good, The Bad and The Ugly in Italy. Four really great titles out in France, including Django. And most of all, an absolutely amazing release of The Great Silence in the UK (see reviews). There's also a new Trinity release in Italy, albeit not English friendly, and some other re-releases. Check out the calendar to learn more and also see books further below. December will see an exciting Boot Hill release in Germany and January will present another opportunity to get the must-own Vengeance Trails box set if you're on a budget (a standard release minus posters and booklets). Django will also be released in Brazil. February titles are slowly popping up, the first one being a BluRay of God's Gun.


Visit the SWDb home video release calendar

Boot Hill Cemetery.
Continuing on a sadder note, our head of obits, @Tom_B had to update the boot hill cemetery with 6 new obituaries (plus one passing from April we learned about). Rest in peace.

Check out "Cemetery with crosses"

Reviews.
Here are some reviews from November



There was a continuation of reviews in German at Nischenkino that you can check out and there's a review of the Friss oder Stirb BluRay in German and an essay about The Hellbenders.


Then there's a review of the new UK BluRay of The Great Silence.


A new review of The Big Gundown

Books.
Just like music, book releases will also show up in our home video calendar, so do check that. November saw the release of Alex Cox' famous book in French and… drumroll…


Mike Hauss' (@Djangoisme ) fourth volume of The Spaghetti Western Digest!

Music.
The November releases also included some soundtracks. The SWDb is still not the greatest source for spaghetti western soundtrack info so please help us add soundtrack releases from the last few decades to the database.


We have something special for you, which is a look at Japanese 45s!
A Fistful of Dollars was dubbed into Navajo. Read at NPR.
Lastly, we wrapped this year's #Spagvemberfest with a bangue bangue. More fans than ever joined in this month long celebration of our favorite genre. It's hard to get statistics right on this, but on the SWDb alone there were 670 posts attributable to this year's 'Fest, almost 200 more than last year.





Click here to read a background article about this glorious tradition: The What? Why? and How? of SpagvemberFest!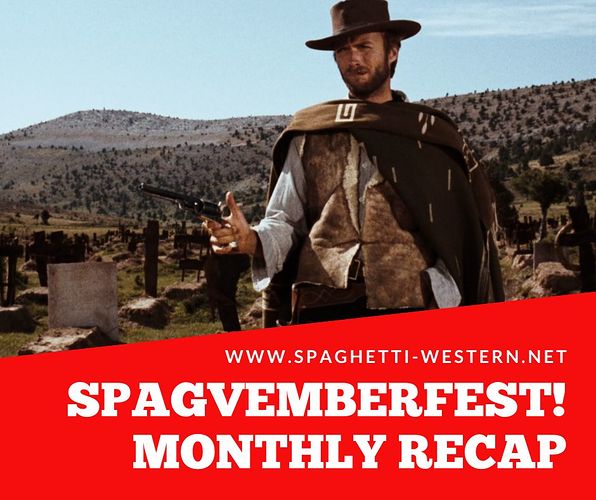 Many thanks to all and everyone who contributed this month, in the SWDb proper, here in the forums, everyone who has emailed us, shared our posts on social media, listened in on the podcast or donated a few bucks our way. See you next month with a roundup of updates. We wish you the happiest new year and hope you check in regularly, discuss, spread the word and contribute.
Highlights:
…and follow us if you're on Twitter: https://twitter.com/SWdatabase