Welcome to the March 2022 newsletter from in and around the Spaghetti Western Database, your regular newsletter of what happened last month.
Background: See Newsletter category of our forums

All forum members receive this

newsletter. Contact us if you have any questions.
---

NEW STUFF IN AND AROUND THE SWDB IN

MARCH 2022:

New around the SWDb:
There have been no big projects at the SWDb this past month but we have been adding pictures and essential info to the database. Thanks at this point to all those who have contacted us with missing DVD information, rare links, posters, and much more. The SWDb relies on its community. YOU are the SWDb, so thanks and keep sending us information and corrections to be included in the website.

New and upcoming discs:
The new relases in March were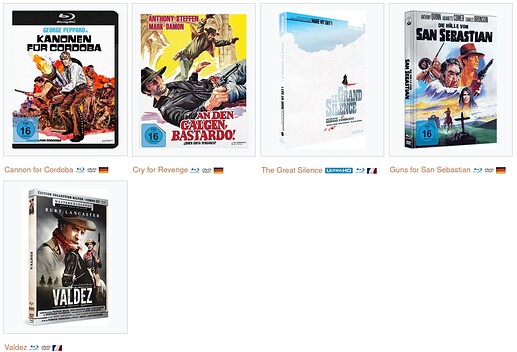 This included two fantastic releases by Explosive Media, the first ever UltraHD release of
The Great Silence
(not English friendly), as well as a French release of
Valdez is coming
and a German release of
The Guns of San Sebastian
(English friendly). And in
April
we can look forward to

This includes a re-issue of the amazing UK BluRay of
The Great Silence
, which we have extensively reviewed here, a French release of
Texas Adios
and another great release by Explosive Media. Pretty big but expected were the announcements of the UltraHD releases of the Dollars movies, forthcoming this summer (you can already pre-order them, check it out in the calendar). More news is in the bushes, we can feel it. Happy shopping.
More titles are added to the Calendar almost daily.

Visit the SWDb home video release calendar

Special tip: Make sure you score
the Vengeance Trails box set
, now in its second issue.

Boot Hill Cemetery.
Our head of obits, @Tom_B had to update the boot hill cemetery with 7 new obituaries over the course of the last eight weeks. Rest in peace.

Check out "Cemetery with crosses"

Reviews.
There were hardly any new reviews. Please get in touch if you can or want to review movies, BluRays, soundtracks or books, in any language.



DIE HÖLLE VON SAN SEBASTIAN

Books.
No news for readers. Please let us know if there are new book releases we missed, and we also welcome book reviews!

Music.
Same with music, no new additions these past weeks, we can use some extra help improving the quality and quantity of soundtrack info on the database, please get in touch!

Locations
Some sad news towards the end. From our friends at Almeriacine we found out that the Rambla Otero rock formation famous for Clint and Lee standing there, has partially crumbled. A video of this can be seen here:

And a newspaper article on this: Las lluvias dañan uno de los iconos del paisaje cinematográfico de Almería | La Voz de Almería
Those of you who feel inclined to donate a dollar or euro or two, head here. Also, whenever you shop at Amazon, click on one of the SWDb's Amazon links first, it doesn't matter which one. Special thanks for those who donated last month!
Many thanks to all and everyone who contributed this month, in the SWDb proper, here in the forums, everyone who has emailed us, shared our posts on social media, listened in on the podcast or donated a few bucks our way. See you next month with a roundup of updates. We wish you the happiest new year and hope you check in regularly, discuss, spread the word and contribute (click here to read about the many ways how to do that).
…and follow us if you're on Twitter:
https://twitter.com/SWdatabase
…or on Facebook, where we've been posting some cool behind the scenes photos recently that drew a lot of attention: