Welcome to the June 2022 newsletter from in and around the Spaghetti Western Database, your regular newsletter of what happened last month.
Background: See Newsletter category of our forums

All forum members receive this

newsletter. Contact us if you have any questions.
---

NEW STUFF IN AND AROUND THE SWDB IN

JUNE 2022:

New around the SWDb:
The first half of the year will be over faster than a colt's shadow. In and around the SWDb these have been some busy months, with tons of improvements made to the database itself, many new folks joining our forums and plenty of home video releases come out or announced. As always, get in touch if you want to help out, anything from fixing a spelling mistake, to donating a few Euros to becoming a more active part of our gang of editors. The SWDb is the sum of its parts!
Also, we are still trying to get in touch with the person who used to run this website SPAGHETTI WESTERN DATABASE if anyone has an idea, please send us a message
We have added more discs from Czechia and Japan, but are missing DVD details in most cases, please get in touch if you can supply infos on any DVD listed in the SWDb
New projects: A master calendar Calendar - The Spaghetti Western Database and a company directory Company directory - The Spaghetti Western Database . We still need help to fill those with information.
We set up a Cargo Records catalog even though some of these releases may be gray market territory. We also updated the Koch Films catalog and fixed mistakes.
On Twitter and Facebook, we ran through all of Wild East's releases and did spot checks on Amazon if they are still available.
And as always: join the SWDb, help out, it will make it better


New and upcoming discs:
There are already some super interesting titles lined up for June and much later. But let's look back first. The new relases in June were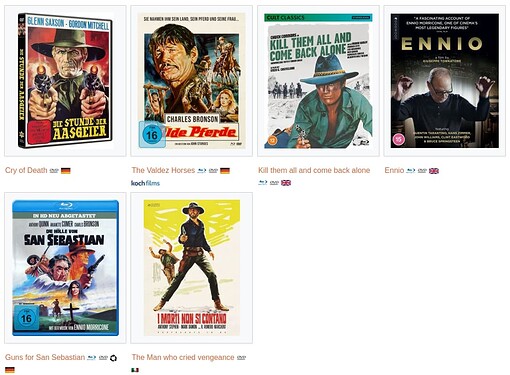 Highlights were a Castellari classic in the UK and the release of Ennio in the UK as well, whereas Koch put out a Bronson classic that had already been available elsewhere.
And in
July
we can look forward to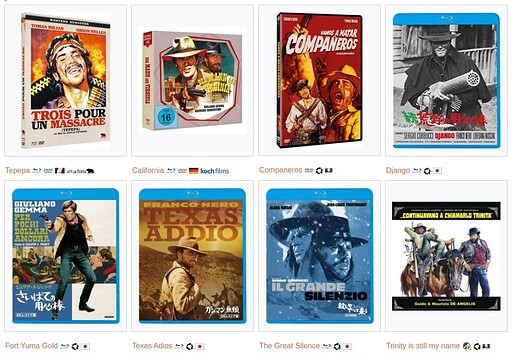 These include the second in the new series by Koch Films, some re-releases in Japan and the first French HD release of Tepepa (delayed, originally scheduled for June).

Visit the SWDb home video release calendar

Special tip: Complete your 4K UltraHD Dollars trilogy! Make sure you own all of Arrow's releases, and have you dove into the Koch Films catalog old and new?

Boot Hill Cemetery.
Our head of obits, @Tom_B had to update the boot hill cemetery with 10 new obituaries over the course of the last eight weeks, among them the late Jean-Louis Trintignant. Rest in peace.

Check out "Cemetery with crosses"

Reviews.
We reviewed a few titles last month. Please get in touch if you can or want to review movies, BluRays, soundtracks or books, in any language. As you can see, all reviews this month are in German, we could use more reviews in Italian, Spanish, French and other languages, too!


Massacre at Grand Canyon



Der Mann aus Virginia (new Koch Films BluRay)

Books.
New Franco Nero biography (Italian).

Music.
No new additions these past weeks, we can use some extra help improving the quality and quantity of soundtrack info on the database, please get in touch!


But do check this out, Ennio is available on BluRay in Italy and the UK.

Locations
We continue posting and sharing location visits and comparison on our Facebook page and thank everyone around the net who takes these pictures and videos.


Those of you who feel inclined to donate a dollar or euro or two, head here. Also, whenever you shop at Amazon, click on one of the SWDb's Amazon links first, it doesn't matter which one. Special thanks for those who donated last month!
Many thanks to all and everyone who contributed this month, in the SWDb proper, here in the forums, everyone who has emailed us, shared our posts on social media or donated a few bucks our way. See you next month with a roundup of updates. We wish you the happiest new year and hope you check in regularly, discuss, spread the word and contribute (click here to read about the many ways how to do that).
…and follow us if you're on Twitter:
https://www.twitter.com/SWdatabase
…or on Facebook, where we crossed the 25K threshold:
By the way
Quentin Tarantino's CINEMA SPECULATION will hit bookshelves in October and it will certainly be a blast. This will be an ultimate dive into the cinema of the 70s from one of the most prolific directors working today and … it may even contain some thoughts about spaghetti westerns… we'll see