Welcome to the December 2021 and January 2022 combined newsletter from in and around the Spaghetti Western Database, your regular newsletter of what happened last month. This edition is a New Year's special including giveaway.
Background: See Newsletter category of our forums

All forum members receive this

newsletter. Contact us if you have any questions.
---

NEW STUFF IN AND AROUND THE SWDB IN

DECEMBER 2021 AND JANUARY 2022:

New around the SWDb:
We can still use everyone's help fixing mistakes in the database, adding posters and lobby cards, fixing missing alternative titles and adding synposis, etc. One of the biggest little projects we began has to do with the lusophone community, i.e. Portuguese-speakers. We have started reaching out to our friends in Brazil and Portugal


to fix remaining gaps in the SWDb: alternate film titles that we are still missing, fixing those we have, adding pictures and VHS info and more. You can see some results of that work here: Portuguese Titles - The Spaghetti Western Database and please get in touch if you can help. The same goes for all other languages, and it also goes for local lobby cards, obscure posters, magazine covers, etc. Please get in touch!

New and upcoming discs:
December and January have been a bit quieter as labels don't usually announce a lot of new stuff over the holidays and most things get released early enough for people to do their pre-Christmas shopping. Nevertheless there were a number of additions. We already moved all the 2021 releases into an archive page which you can check out. And we started adding 2022 releases as they trickle in, there are some exciting things on the horizon.
The stand-out December releases were an all-around happy release of Boot Hill for German customers especially, even though the serious cover motive was a Koch shop exclusive. Also two Explosive Media re-releases arrived, then there were to smaller label releases and a GBU release in Spain that was also just a re-release.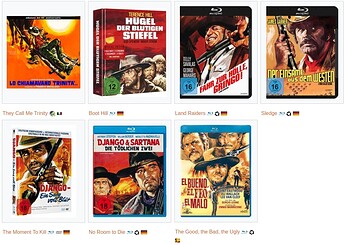 The stand-out
January
releases were the first ever release of
Django
in Brazil, the release of
Minnesota Clay
by Explosive Media and another slate of Leone re-releases in Italy including
The Good, The Bad and The Ugly
in 4K UltraHD. And you can now get a second shot at the
Vengeance Trails
box set which has also been re-released. A book reissue that was well received was also part of this month's good news.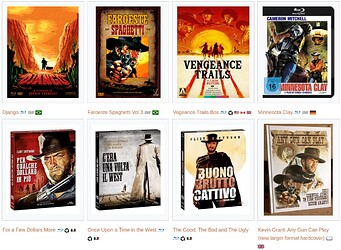 Visit the SWDb home video release calendar

God's Gun
, not the greatest LvC film, is
arriviing on BluRay
in February.

Boot Hill Cemetery.
Continuing on a sadder note, our head of obits, @Tom_B (who's doing great after a short stint at the hospital, cheers to you amigo) had to update the boot hill cemetery with at least 9 new obituaries over the course of the last eight weeks. Rest in peace.

Check out "Cemetery with crosses"

Reviews.
Here are some reviews from December and January



Minnesota Clay BluRay

Books.
Just like music, book releases will also show up in our home video calendar, so do check that.


An excellent new Czech book Fenomén Italský Western - Sociokulturní charakteristiky jednoho žánru

Music.
The December and January releases also included some soundtracks. The SWDb is still not the greatest source for spaghetti western soundtrack info so please help us add soundtrack releases from the last few decades to the database.


We added this collection to the database, let us know below if you have it and what you think of it: Ennio Morricone, Original soundtracks 1964-2015
Lastly, another technical upgrade to our forums went smoothly, and as you can explore here and here, there are plenty of new features and improvements made to the software that we use here to make your experience in the SWDb community even better. This of course doesn't come free, so those of you who feel inclined to donate a dollar or euro or two, head here.
Many thanks to all and everyone who contributed this month, in the SWDb proper, here in the forums, everyone who has emailed us, shared our posts on social media, listened in on the podcast or donated a few bucks our way. See you next month with a roundup of updates. We wish you the happiest new year and hope you check in regularly, discuss, spread the word and contribute (click here to read about the many ways how to do that).
Giveaway:
Among everyone proving comments below this issue of the newsletter we are giving a way a brand new, still sealed, copy of this ultra rare release by the former Dorado Films label… THE SEVEN FROM TEXAS. Deadline is February 20th.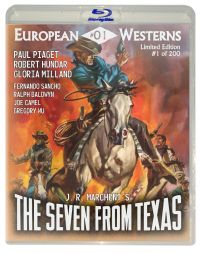 …and follow us if you're on Twitter: https://twitter.com/SWdatabase