Hello Everyone,
Yes, it is true I am new to this form and this amazing database site. I was looking for people who where like minded who care about all westerns and who have a fondness of Spaghetti Westerns and I was lucky and found all of you. I know that for some of you this will be a welcome surprise.
I work to help run a once a month classic movie series in an old art deco movie palace. Every now and again we show westerns to very happy audiences and we always have a nice crowd (we average 500+ a night.) In September 2016 we screened "The Searchers" and had Lana Wood as our guest.
Our next show is coming very soon. We're screening "Once Upon a Time in the West" on January 12, 2017. We always give our screenings the Red Carpet treatment and dress up for the occasion. We highly encourage people to get into the spirit of the film. The doors will open at 6 and admission is only $10. We have Chicago's foremost theatre organist Jay Warren perform pre-show music on the Mighty Wurlitzer Theatre Organ at 6:30 and then the presentation begins at 7. We'd love to see you come out and support this great film and all the fine actors who made it the classic it is.
Yours sincerely,
Grace Rellie
P.S. If you come, please let us know you are a member of this site. We'd love to talk to you.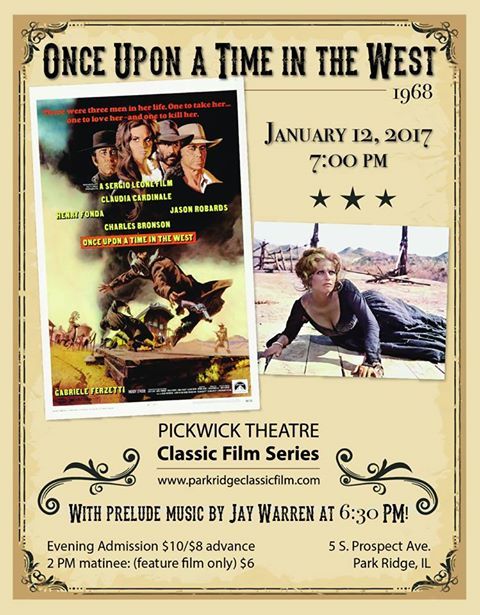 For more info please check out our website: parkridgeclassicfilm.com
or follow us on Facebook: @Pickwick Classic Film Series