Very enjoyable SW … nice jaunty theme music from Marcello Giombini, good use of Almeria locations, plus Luigi Pistilli, Aldo Sambrell and Benito Stefanelli as bad guy henchmen

This Man Can't Die
Release Date: 5.4.1968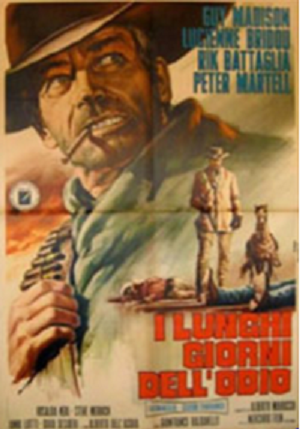 Day 9
Death on High Mountain (Cerchio / 1968)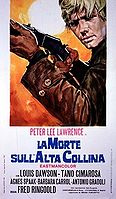 Enjoyable flick which has a lighter tone without too much comedy but a massively overlong barroom brawl. PLL plays the youngster trying to break away from family constraints and Luis Davila looks like a cross between Gary Cooper and William S. Hart which is actually pretty effective for him.
This PLL retrospective has proven to be a pretty good ride so far. Very few classics but even less duds really and he fits his roles well. Also noticeable that even though last year I was cataloging the roll and shoots during my Steff-fest I should have been doing the same for PLL this time around. A definite penchant for a dive and shoot was our Peter.
Day 10
Garringo (R.R. Marchent / 1969)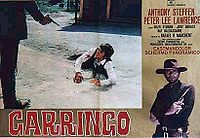 Watched this one last Spagvemberfest as part of my Steffen marathon so has been one of the PLL films I remembered best. An unusual one for the German as he plays the bad guy in this; a killer with a psychotic hatred of army officers. A role he pulls off well which shows he had some range I think as he makes a very believable villain.
Day 11
More Dollars for the McGregors (Merino / 1970)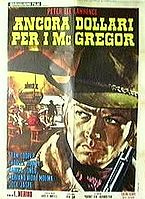 Looked back at this film's thread to see if I felt the same way about it as, to be honest, I had completely forgotten what it was like. Turns out I feel exactly the same.
However, I like Ennioo's summary better:
Safe to say I like it for all the things listed. Also, for it's sparse dialogue and good direction. I will have to seek out a better copy of this than the vhs rip with Danish (I think) subs which I currently have. It's a good one and allows PLL a much grittier role.
DAY 11
Ah, now we're talking! A perfect Sunday movie and one I've not seen for awhile: The Return of Ringo (Tessari, 1965), the spagged-out edition of Homer's The Odyssey featuring one of my favourite scores in the entire genre. Giddy-up, Montgomery!

Vengeance
Release Date: 19.4.1968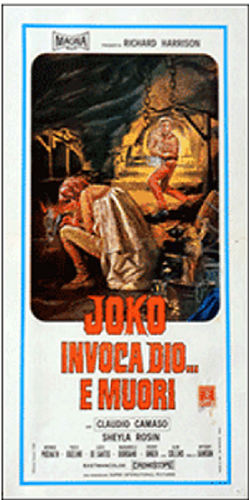 Better than I remembered it. For now 6,5/10. Watched the Image Entertainment DVD (which is on sale). Runs for 100 min.
Work got in the way and I wasn't able to watch any Spag's for a few days. However I've had the chance to watch to movies I've been looking forward to for a very long time.
Day 10: Requiscant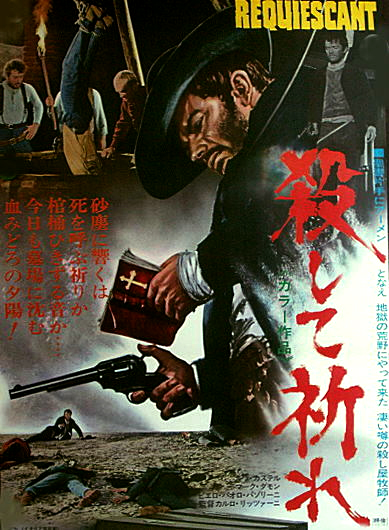 and
Day 11: Il Mercenario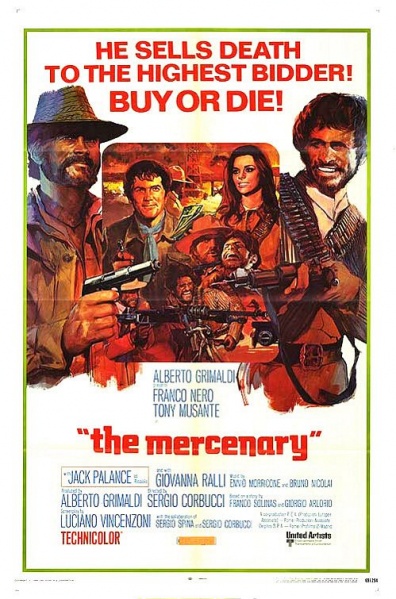 Coming up this week:
Io non perdono… uccido
Giarrettiera Colt
But I don't have English friendly versions of these two. Sombody here know where to find it?
I think there should be english srt subtitle file for Garter Colt available.
DAY 12
Back to the silly spags today with They Still Call Me Trinity (Barboni, 1971) and, like its predecessor, it's a rare comedy to which I'll give a pass. In fact I think I narrowly prefer this one.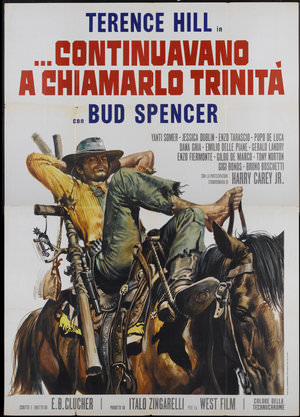 Me too, I love the restaurant scene.
I've skipped two Ro-Ma bros films, Joaquín Luis's El aventurero de Guaynas and Rafael's Dos pistolas gemelas (both released in 2 AL). The first one because it isn't a "real" Western (it has helicopters, and I prefer my Westerns without vehicles > 8 horsepower, unless they're rail-mounted); the second one because I tried to watch it two years ago and failed (suffice it to say that its poster alone makes you question your sanity). Rafael's third Western, then, was Dos cruces en Danger Pass, released either on March 28, 4 AL (SWDb), or (in Italy) on March 28, 3 AL, and/or (in Spain) on March 8, 4 AL (IMDb); censura: September 27, 3 AL (ANICA). Bozen/Bolzano-born actor Pietro Martellanza plays revenger Alex Mitchell, who as a boy had to witness the brutal murder of his parents. A rather bleak affair. (Reviewed by Lee Broughton ["Two Crosses at Danger Pass is a little-seen and quite low budget genre entry but it remains a surprisingly affecting, engaging and enjoyable film"] and Michael Hauss ["the film unfortunately is a run of the mill spaghetti western"].)
If you had to choose between Danger Pass and Pleasant Valley, where would you go?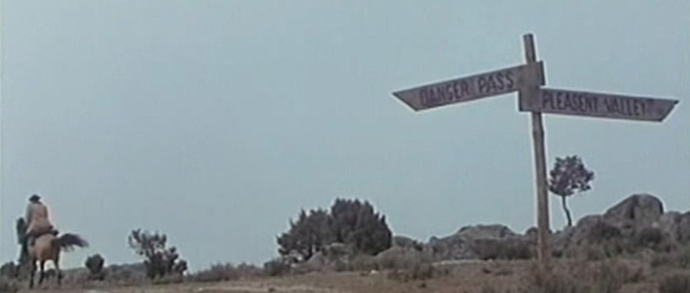 Shit Storm Avenue, obviously!

This one I had no real high hopes for, but turns out to be nearly as pleasant as Pleasant Valley
That reads like a contraction of "plea sent", not pleasant, like someone on death row sent a plea to the governor.

So it could be dangerous either way.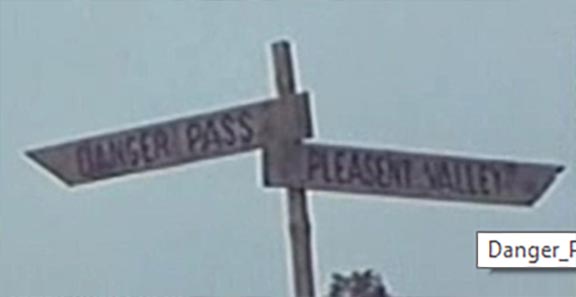 God Made Them… I Kill Them
Release Date: 29.4.1968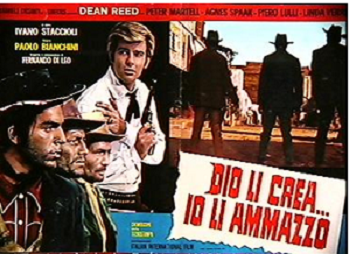 4/10
Unlike Sam Cooper in my first Spagvember film of the year, I haven't struck gold yet.
I didn't have that reaction to the poster. Do you think I have a problem?
The beholder lies in the eyes of beauty, and sanity is overrated.
Dos hombres van a morir, directed by Rafael Romero Marchent, is my second rewatch during this year's SpagvemberFest (of the films I've watched so far I had only seen Tres hombres buenos before). Again we get Pietro Martellanza, but this time with a partner, Piero Lulli, who ameliorates the acting situation considerably, even though Dyanik Zurakowska isn't of much assistance. Bloody Bill's band of blusterous bushwhackers, who hate alliterations almost as much as Yanks, are not very nice to the townspeople of Springfield, Missouri. Lulli and Martellanza have to intervene.
DAY 13
Ooh, I'm getting me some Dick Spitfire action today! It's Django and Sartana's Showdown in the West (Fidani, 1970) starring Gordon Mitchell's gurning, grinning face, and I don't know whether I'm excitedly looking forward to it or f*cking dreading it! A little from each column, I think. Actually, this one's not too bad. I mean it's bad, but it could be worse. There's worse to come, I'm sure.