Hello,
I am searching for an available version of Antonio Margheritis SW "Vengeance". Can anybody help me?
There is a blu ray that was released by Code Red and was exclusive to diabolikdvd but it's currently sold out. Your best bet is to try eBay.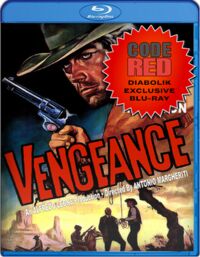 Thank you for the tip! The only problem is that I am from Germany and there are no offers for this blu ray on eBay.
I purchased my Vengeance code red from screen archives try them?
No, I did not try them yet, thank you for the tip!
I hope another company will give this movie a chance soon
A new Blu-ray would be nice and hopefully they'll use the colour scheme on the Image DVD. The Code Red releases seem to have a blue tint.