I guess you've all heard about this trajedy. She was Franco Nero's step daughter.
Very sad indeed.
Seemed a very pleasant person.
Yes very sad. So young. And poor Liam. ero gave her away at her wedding.
Yes, very sad to hear this.
you know i couldn't remember a single film she had been in, but she worked and was more famous for her theatre work. it is very sad, and shows the fickle finger of fate. she seemed like a very nice lady. it is very sad, sympathies to liam neeson their two boys 12 & 13 years old, vanessa redgrave and all of their family. rip natasha

Don't know if I've ever laughed harder in a movie than one of hers; Waking Up in Reno. Its hilarious and she was great in it and everything I saw her in. RIP
pic from the funeral.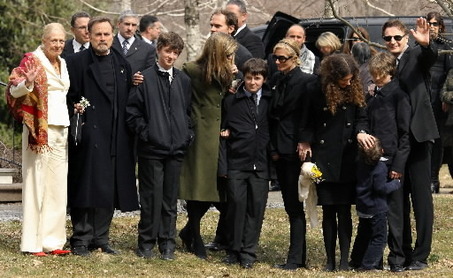 I pointed out Nero to my Mom. He was also a pallbearer. But they didn't mention him. Neeson seems to be keeping a strong face on things. Good for him. Let him mourn away from the camera.
Yeah Nero unfortunately is still relatively unknown in North America, even though he's somewhat of a household name in europe.