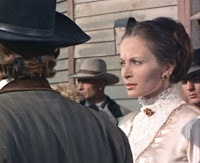 Anna Orso died in Rome today August 14, 2012 after a short illness. The news was released by her agent Andrea Lamia. She was 73.
The actress, was born in Naples, Italy on December 11, 1938, and made her debut at the cinema in "Storie sulla sabbia" (aka "Tales of Sand") (1963) by Riccardo Fellini. In her fifty-year career she worked with many directors including Marcello Baldi, Pasquale Squittieri, Francesco Maselli, Marco Bellocchio, Massimo Troisi, Marco Pontecorvo, Giovannio Veronesi, Wim Wenders, John Huston, and the brothers Adriano Bolzoni Frazzi.
Anna Orso appeared in two Euro-westerns: "Gentleman Killer" as Ruth Morrison and "Day of Anger" as Eileen Cutchell both in 1967.