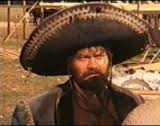 Farewell Remo Capitani.
A familiar face to Spaghetti western fans, he appeared in "They Call Me Trinity" with Terence Hill and Bud Spencer and many other films.
Yesterday was a sad day in Rome as Remo Capitani died on Friday February 14, 2014. He was 86. Capitani was born on December 19, 1927 in Rome. He was one of the main actors of the spaghetti western genre. He's remembered as the villain, Mezcal, in "They Call Me Trinity" (1970) but appeared in over 25, Euro-western often uncredited. He began his career as a stuntman, then made his way into the Spaghetti Western genre. Among his most well-known films that he appeared in were "Ace High" (1967) "Sartana" (1968), "Django the Bastard" (aka The Stranger's Gundown) (1969), "The Ballad of Ben and Charlie" (1971) "The Grand Duel" (1972) and the documentary "America in Rome" (1998). He also had a role in "Gangs of New York" (2001). Capitani was sometimes billed under his alias Ray O'Connor/O'Conner.