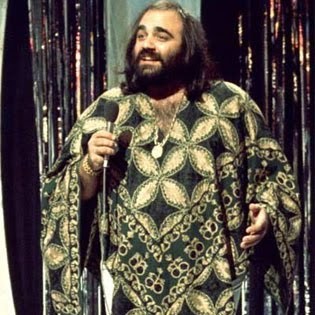 [size=12pt]R.I.P. DEMIS ROUSSOS (15 June 1946 – 25 January 2015) [/size]
Demis Roussos had a couple of smash hits when I was a teenager and I was a bit surprised to find out that he was only 68 years of age. He must have been in his mid-twenties when he appeared in programs like Top Pop with hits like 'Forever and Ever', 'My Friend the Wind' and 'Auf Wiedersehen'. He looked much older. Demis Roussos sang in Greek, English, French, Spanish and German and was a mega star in Europe but apparently he never really cracked the American market.
Roussos started his career as the singer (and bass player) of Aphrodite's Child, a Greek pop ensemble that also included Vangelis. Their musical style was defined as progressive & psychedelic, terms equally related to legendary bands such as Yes, Pink Floyd, Procol Harum and The Moody Blues. I'm not too familiar with their body of work, but judging by some of their best known tracks their style (dominated by Vangelis' keyboards) seems closest to Procol Harum.
Demis Roussos' voice was heard on a song called Tales of the Future that was part of Vangelis' soundtrack for Blade Runner.
[size=12pt]Aphrodite's Child - It's Five O'Clock: