After some research I could not really find out many connections from Portugal to SW, we were a pretty closed and undeveloped country at the time, with a long colonial war going on until mid seventies that kept us apart from the rest of the world, so not the ideal country for Euro Cinema productions, even so this was what I could find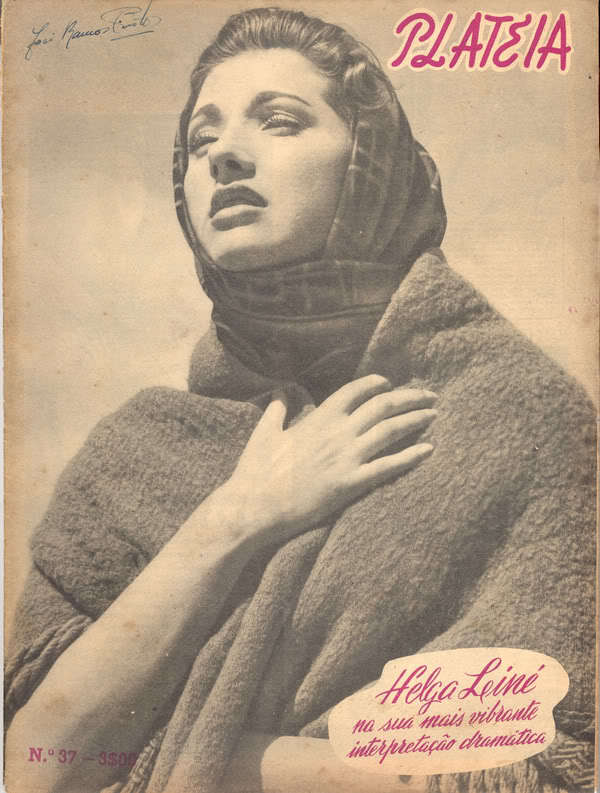 Liné in one of her most dramatic and iconic roles in the neo-realist film Nazaré, in the part of a fisherman's wife
Helga Line
She was born I Germany and came to Portugal still a child with the rest of her family. They took refuge in Portugal before WWII started because one of her parents was Jew (both of them were vaudeville artists), so she does not belong to the group of orphans children's (always from catholic origins) mainly from Austria and Germany (but also from Hungary) that were adopted by Portuguese families after WWII. I would say that those kids were somehow lucky cause they were all adopted by rich aristocrat landlords families, the only ones who could afford to do it, its curious that they kept their original names but the majority choose their adopted families names for their sons, as a good example, there was a famous (more for the unfamiliar look I guess) bullfighter and Fado singer (in the good Marialva tradition, something of an aristocrat Portuguese playboy), that looked like a blonder PLL.
Anyway Liné became a circus performer from a young age, and also started to acted in Portuguese films of the time, including one of the most famous pictures (for artistic reasons) of that period 1941 Porto de Abrigo when she was only 9 years old. Later she did theatre plays, Vaudeville shows, and become quite famous in Portugal in those years becoming what can be called a national star, she also became a regular actress in the few Portuguese films of the time, from the several she did I should mention Cerro dos Enforcados and Nazaré very good films, where she as a more dramatic roles (more similar to the Italian neo-realist films of the time), different from the usual musical comedies she was mostly cast for.
At the begging of the sixties and being tired of the claustrophobic and closed feeling in the country, she moved to Madrid to dedicate herself to an International cinema career something she could not afford to do in Portugal. Her first role in Spain was in Eugene Martin film Il Conquitadore del Maracaibo (written by Parolini), the rest is history she participated in more than an hundred films, and become quite a popular actress in euro cinema, she was in a few SW (Aventuras del Oeste, All'ombra di una colt, Campa carogna… la taglia cresce and a few more) but was more famous by her terror and erotic films.
Among other things like at least one or two Almodovar films participations, she had a recurrent role in one of the most successful series of the Spanish TV, also one of the few (or the only one I guess) that was also a hit in Portugal Verano Azul (every one of my age in Portugal remember that one, it was a really cool serie).
She's now retired from acting and lives with good health in Buenos Aires, she really deserved a tribute for her contribution to the arts by the authorities, but I guess the one who care are becoming really old.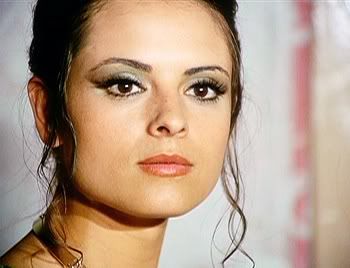 The stunning beauty of Soledade Miranda, always present in every frame
Soledad Miranda
She like Liné wasn't born in Portugal, in this case in Spain from Portuguese parents which wasn't that normal at the time people here immigrated to other places than Spain, the explanation for that is simple a Gypsy connection, she was born into a wealthy gipsy family connected to show business in the Flamenco area (one of her aunts Paquita Rito was a very famous flamenco dancer)
In her short career she made a lot of films, even before she was discovered by legendary Spanish Director Jesus Franco, most of those film were musical comedies. during 1964 she participated in a few Spanish/Portuguese productions filmed in Portugal that were made for both countries with the same or very similar plots but with different names for both countries like Los Gatos Negros for Spain and A Canção da Saudade for Portugal the actors were the same
She married one of the few Portuguese F1 race drives that she meet while he was working as a photography director in one of the several film she made in the in the beginning of the sixties, ironically she died in a brutal car accident while her husband was driving the car, in one of the most dangerous roads in the country at the time A Marginal that connects Cascais to Lisbon by the sea coast, and famous for the several accidents that usually took place there (now pretty safe you can't go more than 50Km/h), she was brought still alive to the hospital but died after the life support machines were turned off, she was 27 and a promising career ahead of her that would made her an international star no doubt about it.
Her films are all best known from anyone now, she did at lest two SW a main role in Sugar Colt and a cameo appearance in 100 Rifles, funny enough, and even if she had a much shorter career than Liné she reached cult status in the Internet age, I 'm the owner of a few vinyl singles she made, not difficult to find, but still got then when they were cheaper.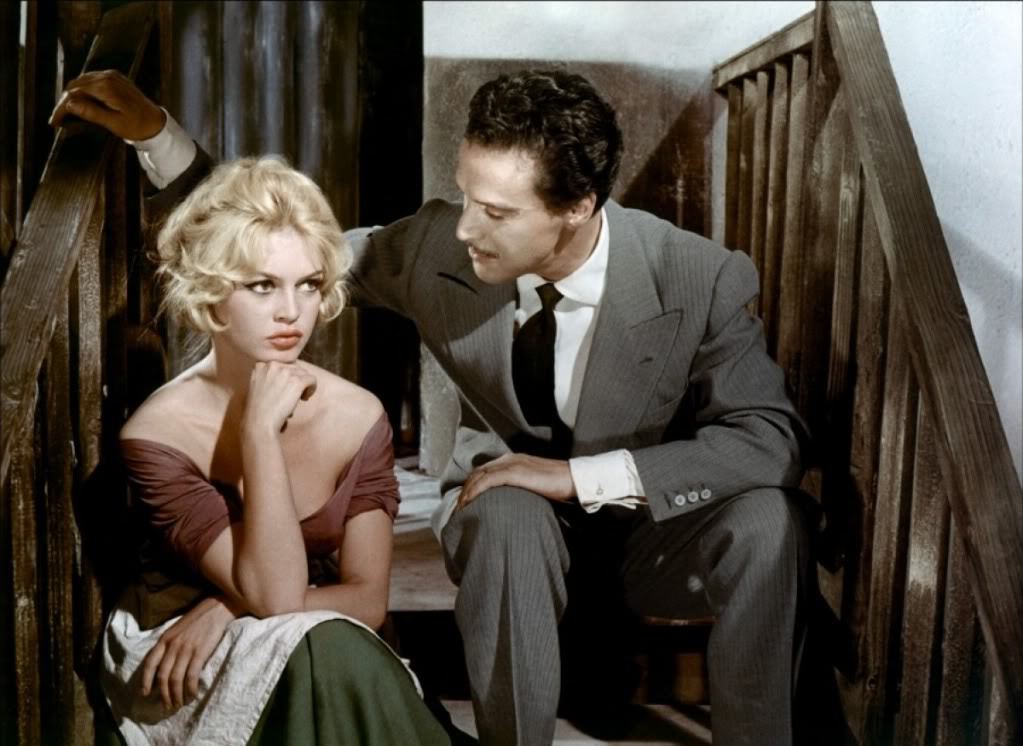 Vilar with Bardot in one of his best known International films
Antonio Vilar
One of the best knew Portuguese actors of all time and before Joaquim d'Almeida one of the few who had an International career. Born in Lisbon he was an actor since is 18 years old, was the star of many productions of the time, with several famous participations in the most successful films of the thirties and forties in Portugal, being maybe his most famous role the part of Camões (the Portuguese national poet) in the 1946 film with the same name, in the end of the forties he tried an International career and moved to Madrid and from 1948 to 1978 he was in more than 40 films mostly Spanish films, but also some French productions like La Femme et le Pantin with Brigitte Bardot and some Ialian ones like Il padrone delle ferriere where he co-stared with Virna Lissi
He was in one SW, Bom Funeral Amigos… Paga Sartana, (also with Liné), where he played the part of Ronald Hoffman one of the baddies.
After his last film in 1978, he fulfil his dream of becoming a producer, and spend his personal fortune in the pre-production of a film about Fernão de Magalhães (or Magellan) that he wanted to star, write, direct and produced, after several refuses by both the Portuguese and Spanish government to support the film, he died without his project ever could see the light, he was still able to build a full size boat similar to ones in the Magellan period, that after his dead was donated to the Portuguese National Comity of the Discoveries, and it still on sea to date
This was all I could find the obvious stuff if, you true connoissuers of the metier know more about feel free to contribute.