http://www.spaghetti-western.net/index.php/Posate_le_pistole,_reverendo
http://www.spaghetti-western.net/index.php/Pistol_Packin'_Preacher_review
All ages admitted, no cuts, original theatrical runtime 104 minutes (Italy)
Last and worst of the five SWs directed by Leopoldo Savona. Low-level comedy with an interesting eclipse scene in its own way paying tribute to Requiem for a Gringo (there's also a reference to One Silver Dollar and Sartana is named several times) and Pietro Ceccarelli as lead actor (!) together with Mark Damon, just like in They Call Him Veritas released two months later.
On IMDb at present there are user ratings for 539 westerns with country of origin Italy, and this one is second worst with 2,6 rating!
At the very end of the list Seven Nuns in Kansas City with 2,0 rating…


What do these two comedies have in common? The presence of Ugo Fangareggi, here wrestling with a machine gun.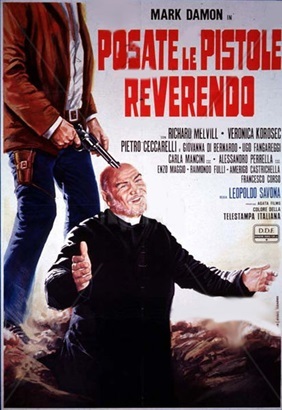 Put the guns down, Reverend!