He died today at the age of 50, by a heart attack.
I thought he couldn't shock me anymore with anything but this surprised me. R.I.P
I wasn't really a fan, but this caught me by surprise nevertheless. R.I.P. :-\
Speaking of music its not a big loss IMO, but anyway R.I.P
His early J-5 stuff, Thriller & Off The Wall are classics. Too bad his late music, skin bleaching, child 'loving', weird ass escapades have to tarnish what was a landmark career of a stellar talent. Even if you a not a fan of that style of music, you can't deny his talent.
Well fame does not guarantee a long life.
Agreed. I think he was a very talented albeit troubled man.
Anyway RIP Michael.
I personally can't understand the people standig in front of the hospital crying like hell.
What happened? Has their whole family got killed by a serial killer?
No, it's just a pop star who died.
And a happy life. Don't think this guy had one. I liked as Kid his Music like Billy Jean or Thriller but never cared later about it. Anyway RIP Michael.
My feelings exactly.
I was never really a 'fan' but have to give credit where it's due. He was a precocious talent as a kid.
I like some of his music [especially the funky songs]. He was talented for sure. RIP
Perhaps they need to take time out and watch a Spaghetti western.
I suppose that kind of people doesn't watch SWs, ENNIOO.
I was being a little sarcastic Dillinger

.
Will he rest in peace, or will he become a zombie?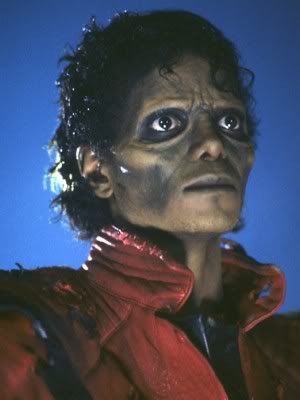 He sure had some talent and especially in his earlier work this is noticeable
On the album Thriller, which I know quite well (my daughter was a fan for a while and had the album) there are still sparks of it left, but in a sense it's also the beginning of the (artistic) end. Several of the tracks sound a bit over-produced, and here and there the Wacko Jacko gets the upper hand.
I haven't listened very often to the later albums, but from what I've heard they were even more watered down reflections of what once was