My statue of Clint I bought in 2006. Has anyone got similar items?
Snap! I've got exactly the same one. Think I bought it about twenty years ago.

It is one of my most prized possessions. I got it at a HMV store when I at university. The deal was you bought the Leone Spaghetti Western 6 disc boxset and you got Clint half price.
I also own Lee Van Cleef's autograph and Alex Cord from A Minute to pray, A second to die.
I have wondered a few times if many on this forum are collectors of western stuff?
I have been a bit of a collector since I first visited the USA (California) in 1992 including sculptures, an old western saddle from Santa Fe New Mexico, western holster etc. Great to pick up bits anywhere I go.
I would love to see some photos of those!!
I have some law enforcement badges from the old West too.
I can only dream of visiting the US again.
Here is a handmade holster that a retired school teacher from Santa Fe NM made for me back in
1997.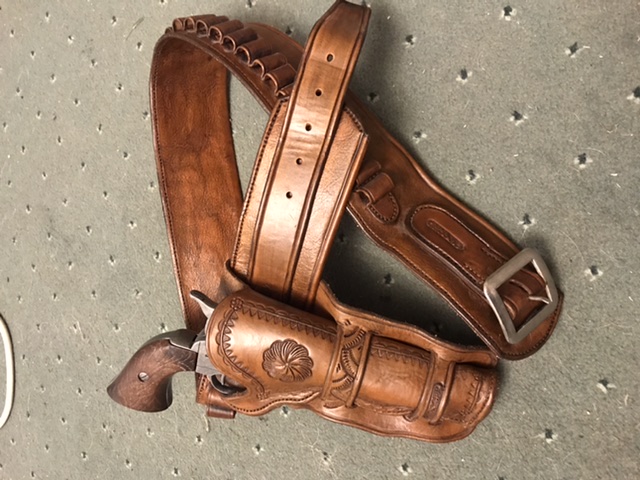 Oh man that is a thing of beauty!! That is a treasure. What model is the revolver?
Something as impressive as that would cost a fortune to buy!!
I definitely think it's a Colt from the shape of the butt.
You got me thinking about my education from the picture of your amazing holster. As an former art student westerns were a source of conflict with my tutors. This picture caused me to have a major row with one my tutors.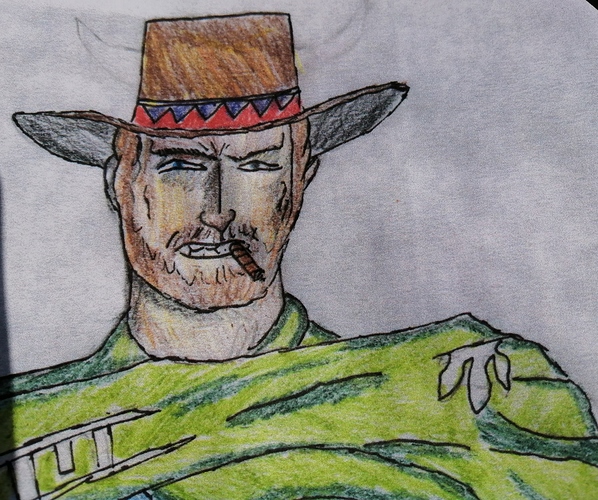 Companeros, it's like this. I was fervently into the Dollars trilogy and Django back in 2006 and wanted to produce a graphic novel based on the Man With No Name character. I was told I could do so as long as it didn't look like Clint Eastwood!!
Yes, I believe it is a colt peacemaker - from memory this is the shorter barrel - 3.5/3.75 inch?